FAR-OUT tourism
Individuals with enough money can book space travel or simulations through Space Adventures, of Tysons Corner, Va. Sample ticket prices:
¢ $3,495: Zero-gravity flight¢ $8,500: Liftoff simulation¢ $25 million: Orbital spaceflight¢ $100 million: Lunar mission (theoretical)
Washington — On the 10th floor of a Tysons Corner, Va., high-rise populated mostly by law firms and software companies is an office where travel agents book multimillion-dollar jaunts to outer space.
From quiet cubicles, they've launched clients on high-priced excursions into weightlessness and blackness, defying gravity and redefining travel destinations. If it weren't for the spacesuits hanging a little eerily in the lobby, a visitor might not guess what's going on.
Launching tourists into space doesn't seem the least bit absurd to Eric Anderson, 32, founder and chief executive of Space Adventures. When billionaire Charles Simonyi blasted off April 7 in a Russian rocket from a launch pad in Kazakhstan, it was Space Adventures that booked the trip. As a guest on the international space station, Simonyi orbited Earth 16 times a day at 17,500 mph while conducting experiments, taking photographs of the planet and blogging.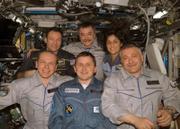 'A market exists'
Anderson, earthbound in Virginia, sees this journey - like the trips of the four other tourists who preceded Simonyi into space, all arranged by his company - as a milestone in the development of space tourism. It was a concept that evoked a fair amount of skepticism when Anderson started his company nine years ago with $500,000 from a few investors.
"We've finally proven that a market exists," he said. "We've totally recalibrated the interest level in spaceflight."
Anderson said his company has taken in about $150 million in ticket sales, a large chunk of which is paid to the Russian space agency for the use of its facilities and spacecraft.
While Anderson was one of the first entrepreneurs in the field, he is getting some deep-pockets competition: Robert Bigelow, founder of the Budget Suites hotel chain, is developing inflatable space stations and expects to launch vessels designed for people by 2010. PayPal founder Elon Musk started the rocket company SpaceX to build vehicles to carry cargo and people to the space station. Microsoft co-founder Paul Allen has sponsored the development of a manned spacecraft. Richard Branson's Virgin Galactic company is building vehicles for suborbital flights.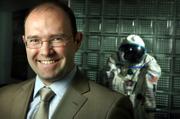 Space Adventures also is trying to build a suborbital vehicle but for now focuses on its role as ticket agent for people who want to hitch rides on existing spacecraft.
The Russian space agency sells an extra seat on its Soyuz spacecraft, which travels to the space station about twice a year. Competing with other countries and space agencies that don't have spacecraft, Anderson has been bidding on and buying some of those seats since the late 1990s, and he has purchased the seat for 2008 and 2009.
Simonyi and his four predecessors paid $20 million to $25 million each to climb aboard the Soyuz spacecraft at the Baikonur Cosmodrome in Kazakhstan. But the company gets most of its business - it claims more than 2,000 customers - from tamer trips.
The most popular is a $3,495 "zero-gravity flight" in a jet in which riders experience several 20-second bouts of weightlessness; it's available in both the United States and Russia. In Star City, a Russian space center not far from Moscow, customers who pay about $7,800 each can take turns in a centrifuge that simulates reentry from space - a feeling similar to the force of a roller coaster, Anderson said. A liftoff simulation inside a real spacecraft goes for $8,500.
Suborbital flights
Space Adventure soon plans to offer suborbital flights in a vehicle it is building with a Russian aircraft company - 90-minute trips to the edge of the atmosphere, including up to five minutes of weightlessness and the chance to gaze at the Earth's curvature. Each trip would cost $102,000, Anderson said, and could be launched from either of the two spaceports that Space Adventures is spending $265 million to build in Singapore and the United Arab Emirates. Anderson said 200 people have made reservations for suborbital trips, putting up $3 million in deposits.
Anderson hopes one of those flights also may be his own inaugural venture into space. As a child growing up in Colorado, his dream was to become an astronaut. But in high school, his eyesight worsened, erasing his hopes. He studied aerospace engineering at the University of Virginia and won an internship with NASA. After school he worked for an aerospace software company but soon realized that "what I was really passionate about was getting people into space."
He was 23 when he founded Space Adventures, which now has about 20 employees in its Tysons Corner office and a few in Russia. It also has a few salespeople in Tokyo, because the company is starting to target Asia as a good source of people who want to be space travelers.
Copyright 2018 The Lawrence Journal-World. All rights reserved. This material may not be published, broadcast, rewritten or redistributed. We strive to uphold our values for every story published.