Alan Mulally's face lights up, addressing dozens of future civil engineers, mechanical engineers and astronautical engineers who have gathered in a classroom to hear his insights about succeeding in a field that demands precision, innovation and vision.
But Mulally, who wasn't all that different from these Kansas University students 40 years ago, seems more eager to hear what they think, what they're hoping for and what they see as the future for safe, fuel-efficient and environmentally friendly transportation.
After all, they're going to be the ones designing the next generation of automobiles, airplanes or anything else that requires design specifications, sets of product characteristics and some 4 million parts - maybe more - as industries search for products to meet fast-moving consumer demands the world over.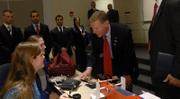 "I really think that engineering - I know that engineering - is the source of all wealth creation," the smiling KU engineering alum says, drawing a few proud laughs. "Are you feeling special now? There will be a lot of people that manipulate the numbers, deal with financing, deal with marketing, deal with sales. But there's only one set of people in this world who create something out of nothing, and it's all engineering."
For nearly an hour Mulally listens, advises, questions and cajoles. But at its heart, his visit with students is a pep talk, one with real hope attached.
"Remember," he says, "you're the center of all wealth creation."
This, from a KU alum who - as president and chief executive officer of Ford Motor Co. - leads a company whose products, suppliers and related operations account for more than 2 million employees, $160 billion in revenue and about 10 percent of the U.S. gross domestic product.
Mulally's been on the job since September, after launching his engineering career 37 years earlier at Boeing Co. with little more than a Volkswagen packed with worldly belongings that included two aeronautical engineering degrees earned on Mount Oread.
"Even at that time," current engineering dean Stuart Bell said last week, "his professors expected great things out of Alan. And he's certainly excelled."
But Mulally is far from alone among KU engineering alumni who have managed to reach positions of prominence in the business world.
Leading the way
Among Jayhawk engineers and their areas of influence:
¢ Energy: Jim Remsberg is president of Argent Energy, and Michael Bradley is president and CEO of Matrix Service Co., a spinoff of Duke Energy. Linda Zarda Cook is executive director for Royal Dutch Shell. Stanley Learned served as the president and chief executive of Phillips Petroleum, and Paul Endacott served as president. Dale Laurence was president of Occidental Petroleum. Forrest Hoglund spent time as chairman, president and CEO of Enron Oil and Gas Co. Dean Anderson McGee was chairman and chief executive of Kerr-McGee Corp. Charles Spahr was chairman and chief executive of Standard Oil Co.
¢ Metals and materials: L. William Zahner is president of A. Zahner Co. Doug Shane is vice president of operations for Scaled Composites. Mou-Hui King was president and chairman of China Steel Corp. Gerald H. Frieling Jr. was chairman, president and chief executive of National-Standard Co.
¢ Other: Sam Gilliland is president and CEO of Sabre Holdings, the parent company of Travelocity. Scott Coons is president and CEO or Perceptive Software. Paul H. Mitchell was vice president for advanced research and development at Nike Inc.
Even the building where Mulally addressed students last week - Eaton Hall - is named for Robert Eaton, a 1963 mechanical engineering graduate who went on to become chairman and chief executive officer of Chrysler Corp.
What's next for a KU engineering alum, General Motors?
"That, of course, puts a lot of pressure on you," Bell, the engineering dean, told his students. "There's one more automaker that we need one of you to rise to the top of."
Down the road
Mulally, for his part, said he wouldn't be surprised to see a budding KU engineer do just that. After having fielded questions for nearly an hour, he left Eaton Hall last week confident that "at least 50" of the students he'd seen possessed what it takes to add their names to the engineering school's long list of industry leaders.
"I mean, their energy, their knowledge, their ethics, their values - you just can't get enough of them from KU," said Mulally, who acknowledged wishing he could hire them all.
But he still has plenty of engineering and other work to do. Ford posted a $12.7 billion loss last year, and Mulally likes to say he took out "the largest home-improvement loan in history" to finance a massive restructuring plan intended to lift the automaker out of red ink in 2009.
Then the roomful of crimson-and-blue wealth creators just might find a chief executive eager to bring them on.
"My job is to create a big enough and profitable growth plan that we can," he said.
Copyright 2018 The Lawrence Journal-World. All rights reserved. This material may not be published, broadcast, rewritten or redistributed. We strive to uphold our values for every story published.