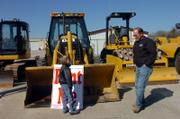 MartinLogan Ltd., whose high-end audio speakers are owned by entertainment stars and die-hard audiophiles, could've moved its operations anywhere when the place was sold two years ago to a private-equity firm based in Minnesota.
But the company chose to stay at home, and today it's completing a sprawling makeover at its expanding complex - now spanning five buildings - on Delaware Street in east Lawrence.
"It allowed us to keep everyone in the same general area," said Sue Agnitsch, MartinLogan's controller. "We have somewhat of a campus environment : and everyone's close by. It's a good area.
"It gives us more room, we've added some new equipment ... and it's allowed us to expand our business and continue to grow."
MartinLogan isn't the only operation making a home in eastern Lawrence, which includes the downtown area. Among the others:
¢ A new bioscience incubator is in the works for a former spec building at the East Hills Business Park. The project, which carries an estimated cost of nearly $7.5 million, is being designed to make high-tech equipment, ultra-clean laboratory space and shared conference rooms available to give startups and other promising bioscience operations enough room to test their ideas and develop their potentially helpful, and lucrative, products and services.
¢ Topeka-based Martin Tractor entered the Lawrence market late last year by opening a dealership along the south side of 31st Street, east of Haskell Avenue, that focuses on sales and service for backhoes, bulldozers and other equipment used by contractors and others in the construction industry. The search is on for a larger site, one that could be designed to accommodate more trucks and motors and a whole line of agricultural equipment - from large combines to smaller units deemed appropriate for the changing landscape in Douglas County and other areas nearby.
¢ Free State Brewing Co. is making plans for a potential expansion, likely into the Kansas City area. The brewpub, which opened in February 1989 as the state's first legal brewery since Prohibition, intends to take advantage of a law passed this year by the Kansas Legislature that allows microbreweries to have more than one location in the state.
¢ New Hampshire Street Bistro opened in the lower level of the Kansas Seed House building downtown, at 811 N.H., after operating as Westside Deli & Bistro in western Lawrence - in a shopping center southwest of Sixth Street and Wakarusa Drive - since opening in 2001.
¢ Among other businesses leaving downtown Lawrence during the past year: Mass. St. Deli, to be replaced by another restaurant; Qdoba Mexican Grill, which remains vacant; the Casbah, a space being remodeled to accommodate a new organic market; and Fields, the iconic photo, painting and print gallery whose former home still remains available for lease.
¢ The downtown area also has plenty of development activity. Members of the Fritzel family are busy renovating one building, have plans for another and are involved in plans for an expanded Lawrence Public Library, which could end up on the current site of the Lawrence Post Office at Seventh and Vermont streets.
¢ Also in development: Bo Harris' plan to revamp an area of industrial buildings along Pennsylvania Street into a mixed-use district for retail shops, offices and residences continues to move forward.
¢ In the East Hills Business Park, the city's largest private-sector employer - Pearson Government Solutions - was sold in February to Veritas Capital Partners, a private equity firm. As part of the sale, the Pearson unit was renamed Vangent. Also at East Hills, Serologicals Corp.'s Celliance manufacturing plant remains vacant and on the market.
At one point, MartinLogan had considered shifting its operations from Delaware Street to the East Hills Business Park. But no deal materialized, and the designer and manufacturer of audio speakers agreed to lease a building that was being vacated by Grandstand Sportswear, which was relocating elsewhere in Lawrence.
"What we have now is more appropriate to the size of business that we are," said Devin Zell, MartinLogan's assistant marketing manager. "Before that, we had outgrown the facilities we were in. We needed the extra floor space.
"We were very fortunate to be able to find a facility that was literally across the street from our existing campus."
Copyright 2018 The Lawrence Journal-World. All rights reserved. This material may not be published, broadcast, rewritten or redistributed. We strive to uphold our values for every story published.