-->
Photo Gallery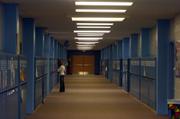 Bomb scare
Superintendent Randy Weseman on schools' responses
After a tension-filled day that led parents to pull thousands of students from their classrooms because of bomb threats, Lawrence's public schools planned to resume operations today on a normal schedule.
But what educators, administrators and the public learned from Thursday's events was that there are gaps in getting information to parents.
Superintendent Randy Weseman said he planned to assess what changes could be made in getting information to parents more quickly, possibly through telephone calls or e-mails.
"There are some things we can do that will probably make us better," Weseman said, explaining that he will make a report Monday to Lawrence's school board.
Weseman said he was notified about the bomb threats about 7:40 a.m., when some classes already had started and many students were on their way to class.
"By the time we effectively had a chance to deal with it, most schools were started," he said. "The notion that 'Why didn't I get called before school started?' - that was impossible."
He said it was never recommended by police to notify parents because "it probably wasn't a credible threat. : But we still responded in what I saw was an appropriate way."
Police arrested Michael E. Parker, 47, of 1202 N.Y., for three counts of making an aggravated criminal threat. The arrest followed an interrogation and a search warrant at his home, where they found a wireless phone believed to have been used to make the calls threatening a bombing. No evidence of explosives was found.
Schools locked down
Weseman announced to the Journal-World, 6News and local radio stations about 8:30 a.m. that there had been a report of a bomb threat and that schools were in a "semi-lockdown" situation where entrances and exits were being monitored.
He provided information throughout the day to the media.
Many parents, hearing the news, rushed to schools to pick up their children.
By the end of the school day, about 3,000 students - about a third of the district's enrollment - left school early with their parents, Weseman said. An official count still was being tabulated by the district and will be given to police, he said.
However, some parents never received word about the threat. Among them was Mary Taylor, a reading specialist at Linn Elementary School in Topeka.
Taylor, who has a fourth-grade son at Pinckney School, was critical of the district for not personally notifying her by phone or e-mail. She said she would be happy to help start a calling tree for parents.
"This is ridiculous. We need a better way to handle bomb threats," Taylor said. "There's no excuse for not letting all the parents know."
Another parent, Nicole Garrett, said she wanted to pick up her son at Central Junior High School, but when she arrived she met with problems. She said it took 35 minutes to finally get her ninth-grader out of class.
She said she became so frustrated with waiting for the school to release him that she sent a text message to her son and told him to leave his classroom. When a teacher saw him start to leave, her son "was sent to time-out in another room," Garrett said.
A parent at Southwest Junior High School said students there were told they could not use their cell phones in class but could go to the restroom to phone someone to come pick them up.
'Emotional state'
Weseman said he had received 19 e-mails from parents during the day, with about half of them positive and the other half asking why they weren't notified.
"People are probably at a heightened emotional state," Weseman said. "People need information right away. They want to know what's going on. They want to know if their kids are safe. They want to know what we're doing. They want to know why we're doing it."
He said his ability to get that information out immediately to the parents of 10,000 students and 2,000 employees is difficult.
"It's impossible. The communication piece is always a struggle," he said. He said the district will try to improve communication through a multimedia approach, using e-mail subscriber lists.
"I think you have to have a listserv to put information out on. And you update it so that people who have computers get it," Weseman said.
The district now relies on media outlets, he said.
"We may look at a system that leaves notifications on people's home phones," he said. "They're expensive, but I think they probably have great merit. Unfortunately, most people are not home. So what is the other outlet? That's what needs to be examined."
Copyright 2018 The Lawrence Journal-World. All rights reserved. This material may not be published, broadcast, rewritten or redistributed. We strive to uphold our values for every story published.