Chat about the school response to threats with Lawrence Supt. Randy Weseman
April 19, 2007
This chat has already taken place. Read the transcript below.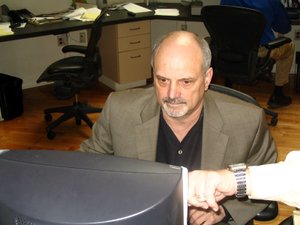 Lawrence School Supt. Randy Weseman will take your questions about the school district's response to today's bomb scare. <a href="http://www2.ljworld.com/news/2007/apr/19/police_investigating_bomb_threats/?breaking">Read about the bomb threat and school reaction »</a> | <a href="http://www2.ljworld.com/news/2007/apr/19/parents_react_bomb_scare/?breaking">Read about parents' reaction, and school reaction to criticism »</a> | <a href="http://www2.ljworld.com/videos/2007/apr/19/13318/">See video interview with Weseman »</a>
Moderator:
Welcome. This is Dennis Anderson, managing editor of the Lawrence Journal-World. Randy Weseman, superintendent of Lawrence Schools, will chat today about the district's response to bomb threats this morning. I'll start immediately with our readers' questions.
As with many parents, the problem was with how and when we did or did not find out about the incident. I am very luck that I was notified by a neighbor who has a daughter that attends Bishop Seabury Academy.
Why did schools not make simple attempts to notify parents? What about the district?
Randy Weseman:
The emergency plan utilized by the district in associaton with the Douglas Co. Emergency group is one of notification of all media outlets. Statements are given on a regular basis to these outlets in order to keep people informed. There are home notification systems that have been discussed but the reality is that only a certain percent of people may be at home etc when a notificaiton is issued. Research indicates that most people are connected to a media source during the day. Examples include the local radio station and the LJWORLD.COM (breaking news). These are immediate sources that offer up-to-date information released on a regular basis.
I would like to know why there is no automated call system in Lawrence schools. I have heard other local/smaller schools have them.

Randy Weseman:
I'm not sure what type of sytem you are referencing; however, the county-wide emergency group has discussed a system (phone number) that could be accessed by individuals in times of community emergency. I would support this system as another vehicle for the distribution of information.
What action can/does the district take to reduce the fear mongering that happens after such tragic incidents as the Virginia Tech shootings?
Randy Weseman:
This is a difficult task. After incidents such as V. Tech and Columbine there is a hightened state of fear. I see such evidence in the behavior of kids and staff as well as parents. Unfortunately, there are people who take advantage of this state of fear and make threats such as delievered today. In terms of reducing the "fear mongering" it always helps to talk about it. Families should talk about it together and we try to address it in our schools with certain programs and counseling.
Why when calling schools to get information was the public told there was a threat of "an act of violence" instead of being forthright and telling parents it was indeed a bomb threat?
Randy Weseman:
Statements of fact are issued to schools so that accurate information can be issued. I can't repond to this direct quote unless in know the source. We received two notifications of threat: One indicated that a "bomb threat" was stated in generic fashion for all "schools in Douglas Co." while the other indicated that some other harm might happen. I assume the person giving you the information was speaking generally, not having specific information. Schools are given instructions regarding what part of the emergency plan is in place from a command center. Since you are initially dealing from an emergency/crisis posture, details may come later. The control and distribution of information is always the most difficult task associated with these events because information is coming in short bursts.
What exactly is the District's Crisis Response Plan, and is it available for public viewing?
Randy Weseman:
The plan is extensive. It is available (from the director of safety) to the extent that our security sytems are not compromised. Each school has its own specific plan based on its size and configuration. We also have an extensive video monitoring system that operates 24/7. The research on violent acts tells us that the most often occur without direct warning. Therefore, the bulk of our securty expenditures are designed accordingly. We can pinpoint activity that might lead to acts of violence or vandilism etc. Since the installation of these systems we have successfully solved and deterred several acts of vandalism. We are now talking about extending these security devices and looking at additonal access security.
I was personally impressed with the response this morning. Considering the vague circumstances, I think all that could have been done, was done. However, is there a policy about this type of situation that applies to ALL schools in Lawrence (including daycare schools like Raintree, etc.)? And do you feel the decision to remove kids from school should be left to the parents? Thank you.
Randy Weseman:
All start with your last question. Parents always have the right to remove their kids. In these situations I tend to understand that each parent has their own emotional response, based on the information they have absorbed from whomever. There are situations that may require evacuation and we make these determinations on a situational basis.
Our emergency master plan does not include the private settings. I believe they are referenced in the county plan but don't quote me. The private schools do tend to follow our decisions about school closings.
Will there be school tomorrow? Have all after school activities for today been canceled?
Randy Weseman:
I will be heading back to my office and team after this chat session to make that determination. Based on what I know right now I would say that there will be school tommorrow. Activities tonight will need further discussion. Stay tuned to LJWorld.com.
please describe, in general terms, what the schools and the district do when schools go into lock-down mode.
Randy Weseman:
Let's start with what happened today which is semi-lock-down. All entrances are limited and in most cases there is only one way in or out. This entrance is monitoring by security and entrance is limited to known entities such as parents who might be picking up their kids. Total lock-down would secure the school at all entrances and individuals rooms. Total lock-down would be indictative of an intruder in the building.
how will we know if the situation is over and there's no worry for students tomorrow?
Randy Weseman:
Statements will be issued throught the media and school communications depending on the time of issuance.
Will there be any special dismissal plans for picking up our kids after school? Mine usually walk out to an adjacent street to be picked up.
Randy Weseman:
As of this moment, dismissal will be of the usual nature but highly monitored and additional security.
Moderator:
Randy Weseman had to return to his office. We thank him for his time. We also thank the readers for their questions. There were too many questions for him to possibly answer in the time allowed.