Waycross, Ga. — A swift wildfire destroyed 14 houses Wednesday in southeastern Georgia, where more than 1,000 people had been forced from their homes earlier in the week, officials said. No injuries were reported.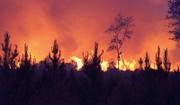 The blaze, which had burned about 40 square miles, or 25,000 acres, ignited Monday near Waycross when a tree fell on a power line, then raced through tinder-dry forest to the Okefenokee National Wildlife Refuge, one of the nation's best-preserved wetland areas, officials said.
Many of those evacuated from the area went to a shelter or moved in with relatives, officials said.
Classes at Waycross schools were canceled after buses were unable to run on some routes because of smoky conditions, and the private Okefenokee Swamp Park was evacuated and its animals moved to safety.
Another fire that broke out Tuesday out about 40 miles south of there, near Fargo, and had spread to 2,200 acres, or 3.4 square miles, by Wednesday afternoon, officials said. The cause of that fire was unknown.
"Because they are around the Okefenokee, it's really hampered our ability to fight the fires," said Eric Mosley, spokesman for the Georgia Forestry Commission. "There aren't many roads or trails into the Okefenokee and it's hard to get equipment in."
Jim Burkhart, a refuge ranger, said the larger fire had entered the refuge by Wednesday afternoon, but not the smaller one. The 403,000-acre wildlife refuge is a haven for animals including alligators and wading birds.
The U.S. Interior Department, which manages the refuge, is bringing in a team that specializes in firefighting operations, Burkhart said.
"We've got all our firefighting crews on the west side, plowing fire lines," he said.
A drought has left the forests vulnerable to wildfires, and the swampy land can be too boggy to support firefighting equipment, such as bulldozers to create firebreaks, said Alan Dozier, the forestry commission's chief firefighter.
High winds also have made it difficult to control the fires, officials said.
A third fire broke out Tuesday evening and damaged a few hundred acres in Berrien County, about 50 miles from the Waycross blaze, but was "90 percent contained" by Wednesday night, Mosley said.
Copyright 2018 The Associated Press. All rights reserved. This material may not be published, broadcast, rewritten or redistributed. We strive to uphold our values for every story published.