Los Angeles — An annoyed look from "American Idol" judge Simon Cowell as a contestant expressed sadness over the Virginia Tech shootings was drastically misinterpreted, Cowell and the show said Wednesday.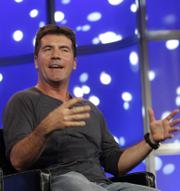 Cowell rolled his eyes and raised his eyebrows as contestant Chris Richardson of Chesapeake, Va., followed his performance on Tuesday's show with a comment about the 32 people killed on the campus by a student.
"My hearts and prayers go out to Virginia Tech. I have a lot of friends over there. ... Be strong," Richardson said onstage.
The camera caught Cowell's expression and showed him tapping his hand once, in apparent impatience, on the table in front of him and fellow judges Randy Jackson and Paula Abdul. In contrast, Abdul could be seen nodding in approval.
The Fox show went into damage control Wednesday, with Cowell - known for his acerbic comments - and a series producer denying that he had heard what Richardson said.
Instead, he was talking to Abdul about Richardson's contention that he deliberately sang "Mayberry" in a nasal tone, Cowell told "American Idol" host Ryan Seacrest on Seacrest's radio show Wednesday.
"I was saying to Paula, 'What does he mean, he sang nasally on purpose? I didn't understand what he was saying.' So I hadn't even heard what he did. Then my eye rolled, given what I was saying to Paula," Cowell told Seacrest.
"I've never heard so much rubbish," added Cowell, a British record company executive.
On Wednesday night's show, Cowell stood firm. "I didn't hear what Chris was saying," he said. "I may not be the nicest person in the world, but I would never, ever, ever disrespect those families or those victims. And I felt it was important to set the record straight."
Cowell earlier said he supported Richardson's comments.
In Seacrest's opening remarks on the show Tuesday, he said: "At this difficult time, we want to say to all those affected by the terrible tragedy at Virginia Tech our thoughts and prayers are with you."
Richardson's performance came about 40 minutes into the hourlong show. Cowell dismissed his effort as "insignificant" and the singer responded by defending himself and remarking on the shooting.
About 15 minutes later in the broadcast, Cowell finished his critique of contestant Blake Lewis and turned again to the shooting.
"I would like to say, on a more serious note, just to pick up on what Ryan said, on behalf of the three of us, that we would also like to offer our best wishes and support to the families of this tragedy, as well," he said.
Copyright 2018 The Associated Press. All rights reserved. This material may not be published, broadcast, rewritten or redistributed. We strive to uphold our values for every story published.