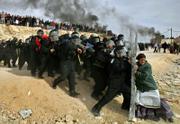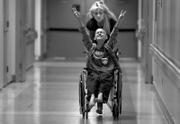 New York — The Wall Street Journal won two Pulitzer Prizes on Monday for exposing excesses of capitalism - in America and in communist China. The Associated Press captured one for what the judges called a "powerful photograph" of a lone Jewish woman defying Israeli security forces.
The journalism prizes recognized a range of American print journalism on subjects from the world's oceans to corruption in Alabama colleges to restaurant reviews.
The Journal, the only multiple winner, was honored for public service for its coverage of the stock-options scandal that rattled corporate America in 2006. It also won the international reporting award for what the judges praised as "sharply edged reports on the adverse impact of China's booming capitalism on conditions ranging from inequality to pollution."
"One of the most important missions of The Wall Street Journal is to expose ills in business so that they can be corrected," Managing Editor Paul Steiger said. "This coverage ... resulted in more than 100 companies coming under investigation and many companies having to restate their earnings."
The AP captured the Pulitzer for breaking news photography for Oded Balilty's picture of the Jewish woman resisting Israeli security forces face to face as they removed settlers in the West Bank. The AP was a finalist in the same category for photos from the war between Israel and Hezbollah, including one by Balilty.
"I feel like today I kissed the moon," Balilty said.
The staff of The (Portland) Oregonian won for breaking news for its reporting on a California family that disappeared in the mountains during a blizzard. James Kim and his family took a wrong turn while returning home to San Francisco following a Thanksgiving trip. Kim was found dead after his wife and two young daughters were rescued. The judges praised the newspaper for its "skillful and tenacious coverage ... telling the tragic story both in print and online."
In-depth coverage
Reporters Kenneth R. Weiss, Usha Lee McFarling and photographer Rick Loomis of the Los Angeles Times won for explanatory reporting for stories on the world's distressed oceans.
"This is such great work, and it's such a great day," said Editor James O'Shea, surrounded by staffers in the newspaper's third-floor newsroom, where morale had been affected by job cuts and management departures.
The judges also praised the Times for its online work on the project, including video and photos by Loomis - reflecting the added consideration given to multimedia this year. The last time a photographer won in the explanatory reporting category was 1995.
This year's Pulitzers marked a significant expansion of online journalism in the entries. Newspapers were able to submit online material like video, blogs, databases and interactive graphics for all print categories.
Brett Blackledge of The Birmingham (Ala.) News won for investigative reporting for his exposure of cronyism and corruption in the state's two-year college system. The stories resulted in the dismissal of the chancellor and other corrective action, the Pulitzer board noted.
Charlie Savage of The Boston Globe won for national reporting for his revelations that President Bush often used "signing statements" to assert his controversial right to bypass provisions of new laws.
"This is a great honor, and I view it as a great moment not just for myself but for the Globe as an institution," Savage said. Debbie Cenziper of The Miami Herald was honored for local reporting for reports on waste, favoritism and lack of oversight at the Miami housing agency.
Features and columns
The New York Times won one Pulitzer - Andrea Elliott for feature writing for a "richly textured portrait" of an immigrant imam striving to serve his faithful in America.
The New York Daily News was honored for editorial writing for "compassionate and compelling editorials" on behalf of ground zero workers.
Jonathan Gold of LA Weekly was cited for criticism for his restaurant reviews.
Winners in every category except for public service receive a $10,000 cash award and a certificate. The public service winner is awarded a gold medal.
Copyright 2018 The Associated Press. All rights reserved. This material may not be published, broadcast, rewritten or redistributed. We strive to uphold our values for every story published.