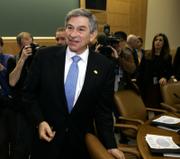 Washington — Global finance officials agreed Saturday the International Monetary Fund needs to strengthen and modernize its exchange rate monitoring policies to ensure their effectiveness as globalization deepens.
Gordon Brown, Britain's finance minister and the head of the IMF's policy-steering committee, said both the quality and the candor of the surveillance process need to be improved to preserve global economic stability.
He said the revision should be carried out in a way that adds "no new obligations" to IMF member countries and takes "an evenhanded approach based on dialogue and persuasion."
Brown said, "I can assure you that the reform agenda at the IMF is moving forward."
He spoke at the end of a daylong session that was part of the spring meetings of the IMF and its sister institution, the World Bank.
The meetings were overshadowed by a controversy involving World Bank President Paul Wolfowitz and his involvement in a huge pay raise awarded to a close female friend.
A demonstration by bank employees calling for Wolfowitz to resign failed to materialize, but advocacy groups marched outside the bank headquarters calling for his ouster.
The White House says President Bush has confidence in Wolfowitz and Treasury Secretary Henry Paulson has called him a dedicated public servant.
Some African officials attending the meetings also expressed support, saying Wolfowitz has made the continent a greater priority at the bank.
"We have seen visionary leadership, steadfast progress under Mr. Wolfowitz," said Liberia's finance minister, Antoinette Sayeh.
The IMF communique said ministers welcomed the "continued strong, broad-based expansion of the global economy," which is becoming regionally more balanced "and is expected to continue in 2007 and 2008."
They agreed that resolving global imbalances - trade deficits and mirroring currency surpluses, particularly in Asian countries - is a shared responsibility and agreed to resume talks on this issue when warranted.
Preliminary rounds involving the United States, the euro zone, Japan, China and Saudi Arabia have been held over the past year. Some ministers expressed concern that the talks were limited to this group of countries.
While seeking new ways to pressure Beijing, Paulson also advocated "bold action" to overhaul the IMF. The organization founded 62 years ago to foster economic stability "no longer looks like the economic world in which we live," he said.
Copyright 2018 The Associated Press. All rights reserved. This material may not be published, broadcast, rewritten or redistributed. We strive to uphold our values for every story published.