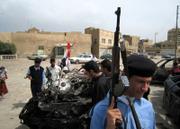 Baghdad, Iraq — A car bomb blasted through a busy bus station near one of Iraq's holiest shrines Saturday, killing at least 37 people, police and hospital officials said.
The bus station bombing occurred about 200 yards from the Imam Hussein shrine in Karbala, where the grandson of Islam's Prophet Muhammad is buried - one of the most important sites for Shiites. After the attack, hundreds of people swarmed around ambulances, crying out and pounding their chests, and attacking police who tried to clear the roadway.
"I want my father. Where is my father?" 11-year-old Sajad Kadhim cried out as he lay on the grounds of the hospital, where doctors were treating his burns.
"All I remember was we were shopping. My father was holding my hand and suddenly there was a big explosion. I don't know where my father is. I want my father," the boy cried.
Dr. Khalid Adnan Obeid, director of Al-Hussein Hospital, Ghalib al-Daamai of the provincial security committee and Rahman Mishawi, spokesman for Karbala police, all said 37 died and 168 were wounded.
At least 16 children were among the dead, said Brig. Gen. Abdul-Karim Khalaf, spokesman for the Interior Ministry. Iranian and Pakistani pilgrims were also among the casualties, said an official at Al-Hussein Hospital, on condition of anonymity because he was not authorized to release the information.
Copyright 2018 The Associated Press. All rights reserved. This material may not be published, broadcast, rewritten or redistributed. We strive to uphold our values for every story published.