Kurt Vonnegut, an American cultural hero celebrated for his wry, loonily imaginative commentary on war, apocalypse, technology, materialism and other afflictions in "Slaughterhouse-Five" and other novels, has died. He was 84.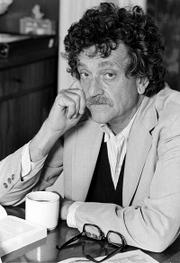 One of the last of a generation of great American novelists of World War II, Vonnegut died Wednesday night in New York City. Vonnegut suffered brain injuries in a fall several weeks ago, said his wife, photographer Jill Krementz. He had homes in Manhattan and Sagaponack, N.Y.,
"There was never a kinder and, at the same time, wittier writer to be with personally," author Tom Wolfe, a friend and admirer of Vonnegut's, told the Times. "He was just a gem in that respect. And as a writer, I guess he's the closest thing we had to a Voltaire. He could be extremely funny, but there was a vein of irony always underneath it, which made him quite remarkable.
"He was never funny just to be funny," Wolfe added.
An obscure science fiction writer for two decades before earning mainstream acclaim in 1969 with "Slaughterhouse-Five," Vonnegut was an American original, often compared to Mark Twain for a vision that combined social criticism, wildly black humor and a call to basic human decency. He was, novelist Jay MacInerny once said, "a satirist with a heart, a moralist with a whoopee cushion."
Although he was disdained by some critics who thought his work was too popular and accessible, his fiction inspired volumes of scholarly comment as well as Web sites maintained by young fans who have helped keep all 14 of his novels in print over a 50-year career. Five of his novels have made the leap into films.
His novels, which include "The Sirens of Titan," "Cat's Cradle," "Mother Night" and "Breakfast of Champions," introduced a revolving cast of odd characters, from the downtrodden visionary Billy Pilgrim to Kilgore Trout, the unsuccessful writer who was Vonnegut's alter ego.
Vonnegut was also an essayist, playwright and short-story writer, whose shorter pieces were collected in such volumes as "Welcome to the Monkey House" (1968), "Wampeters, Foma and Granfalloons" (1974) and "Fates Worse Than Death: An Autobiographical Collage of the 1980s" (1991).
"Slaughterhouse-Five" was a book he tried but failed to write for 25 years. An agile mix of fantasy and Vonnegut's World War II experiences, it features time traveler Pilgrim who, like Vonnegut, survived the Allied firebombing of Dresden.
Unorthodox in structure and patently anti-war, the novel resonated with a rebellious younger generation. Vonnegut became an icon of the countercultural 1970s and his book became a milestone of post-modern American literature, unequaled in force or artistry by any of his later novels.
"He writes about the most excruciatingly painful things," Michael Crichton observed in a review of "Slaughterhouse-Five" for the New Republic. "His novels have attacked our deepest fears of automation and the bomb, our deepest political guilts, our fiercest hatreds and loves. Nobody else writes books on these subjects; they are inaccessible to normal novelistic approaches."
Copyright 2018 The Lawrence Journal-World. All rights reserved. This material may not be published, broadcast, rewritten or redistributed. We strive to uphold our values for every story published.