Josh Evans makes his return to national television later this week.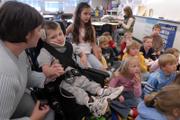 The 6-year-old Lawrence boy, who suffers from a rare genetic disorder called Roberts syndrome, will again be featured on NBC's "The Today Show."
"They came to Lawrence and filmed us over a couple of hours," said Josh's mother, Tareena Evans. "They interviewed me and they attempted to interview Josh but he wasn't real cooperative about answering questions."
A year ago the show aired a piece about Josh and his family visiting Florida's Disney World thanks to The Dream Factory of Greater Kansas City. The organization grants one wish to a child who is chronically or seriously ill. "The Today Show" checked back to see how Josh was doing one year later. The latest feature on Josh will air Friday.
And for Josh, the past year has been a tumultuous one.
"If we had not gone to Disneyland in June he would not have enjoyed it as much because his health started to go down later in the summer," Tareena Evans said.
In October, Josh had surgery to stabilize his skull by fusing it to his spinal column. It was the result of another Roberts syndrome complication. Roberts syndrome has affected the way Josh's bones have grown since birth. He has no forearms and his wrist are connected to his elbows. His ankles are connected to his knees.
Josh also has a problem with the electrical current in his heart. The condition causes tachycardia, which means his heart will suddenly race. It is a problem he was born with but that hadn't been detected until recently.
"He could be watching television and then he will just go pale and you can see the sweat dripping from his forehead," Evans said.
Josh also has heart arrhythmia, or periods of an irregular heartbeat. Attempts to fix the heart problems with medical procedures at Children's Mercy Hospital in Kansas City failed. He should have open-heart surgery but the arrhythmia prevents that, his mother said.
"He's just not quite understanding why this is happening to him and why every time we turn around something else has gone wrong," she said.
But Josh has his good days.
He enjoys going to school at Langston Hughes School with fellow first-graders in teacher Jackie Heffren's class, Evans said.
Paraeducator Angela Randall spends her day at Langston Hughes working with Josh. It is her job to help him make adjustments so he can participate in class activities the same as the other students. Josh sometimes has trouble writing, so she will write some of the letters for the words he says he wants to use.
"He's a great kid," Randall said. "He has a pretty good outlook on life. He doesn't let himself get down about things. He's very matter-of-fact about it."
Josh is popular with his classmates, Randall said.
"The kids absolutely love him; he's just one of them," she said.
The attention Josh has received from both national and local media has made him a bit of a celebrity. When he goes with his parents to a store someone always recognizes him and speaks to him by name, Evans said.
"I don't know who they are and he says he doesn't know, either," she said. "But he loves it. He hams it up."
Copyright 2018 The Lawrence Journal-World. All rights reserved. This material may not be published, broadcast, rewritten or redistributed. We strive to uphold our values for every story published.