It was a cold, dreary Monday morning. And a drizzle put a chill in the air at Langston Hughes School.
But dozens of students and parents took to the damp streets near the school to bring a little sunshine into the life of Josh Evans, a first-grader having surgery that morning.
Josh has Roberts Syndrome, a rare genetic disorder that disrupts bone development.
A benefit walk/run was scheduled for the same time he was undergoing major surgery in Iowa City, Iowa.
"We had students. We had police officers. We had teachers," said Reenie Stogsdill, a physical education teacher who organized the event. "Everybody wore green because green is Josh's favorite color."
There also was some crimson and blue spirit in the crowd - the walkers included Kansas University assistant basketball coach Tim Jankovich, whose son, Michael, is one of Josh's first-grade classmates.
Jankovich brought along KU basketball players Mario Chalmers and Brandon Rush.
"Brandon and Mario were coming down the hill and all the kids were chanting, 'Jayhawks for Josh! Jayhawks for Josh!' and that was pretty cool," Stogsdill said.
About 200 people took part in the walk-run event that had raised about $4,100 for Josh's family by late Monday afternoon.
Photo Gallery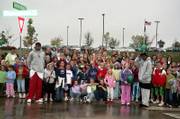 Walk for Josh
The 6-year-old had surgery Monday to stabilize his skull to his spinal column.
"We just wanted to help the family financially and also with good thoughts this morning," Stogsdill said. "We thought if we were all running and thinking about him, we could send some good karma. ... We know how serious it is, and we're praying for the best."
Stogsdill said those at the school always walk or run on Mondays and Thursdays as part of a fitness program called the Bobcat Marathon.
The morning's event was renamed "Journey for Josh," and all of the miles were dedicated to Josh.
Stogsdill said since all the students donated their miles to Josh, he would be the first student to finish the Bobcat Marathon and get a T-shirt.
In March, the Dream Factory of Greater Kansas City funded a trip to Disneyworld for Josh.
Stogsdill said donations to help defray medical costs for Josh can be made this week at the school or at University National Bank. Checks may be written to the Josh Evans Fund.
"The family just needs our support and our help right now," Stogsdill said. "Josh is one of those kids that if you meet him, you're going to be attached to him. ... It's his personality that captures you."
Copyright 2018 The Lawrence Journal-World. All rights reserved. This material may not be published, broadcast, rewritten or redistributed. We strive to uphold our values for every story published.