Baghdad — Calling the United States the "great evil," radical Shiite cleric Muqtada al-Sadr on Sunday accused U.S. forces of dividing Iraq by stoking violence. He also urged his Mahdi Army militiamen and Iraqi security forces to stop fighting in Diwaniya, a southern city where clashes erupted late last week.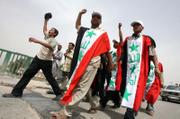 The influential cleric's verbal assault came as the U.S. military announced that 10 American soldiers were killed over the weekend, including six Sunday in attacks north and south of Baghdad. At least 69 Iraqis were also killed or found dead across Iraq.
Al-Sadr, a fierce nationalist who has long called for a U.S. withdrawal, stopped short of telling his fighters to rise up against the American troops, a move that would severely complicate an ongoing security offensive underway in the capital and other parts of Iraq. Instead, he ordered his followers to remain united and to "demonstrate" to "end the occupation."
"My brothers in the Mahdi Army, and my brothers in the security services: enough fighting and rivalry, because that is only a success for our, and your, enemy," al-Sadr said in a statement brimming with emotion and passages from the Koran. "Infighting between brothers is not right, nor is it right to follow the dirty American sedition, or to defend ... the occupier."
Al-Sadr said the "enemy" wants "to draw you into a war to end Shiism, or rather Islam," and he urged Iraq's army and police to remain independent of U.S. forces and to avoid being "drawn after the occupier, because he is your stark enemy."
The message came as thousands of Iraqis flowed to the southern holy city of Najaf, heeding al-Sadr's command to stage a massive anti-U.S. protest today, the fourth anniversary of the fall of Saddam Hussein. Hundreds of buses and cars clogged the road to Najaf on Sunday, as thousands of his supporters waved Iraqi flags and shouted religious and anti-American slogans.
"No, no, no, to America ... Muqtada, yes, yes, yes," they chanted, as Iraqi televisions crews followed them.
Sheik Abdul Razaq al-Nadawi, an al-Sadr spokesman in Najaf, said clashes erupted in Simawa province, south of Baghdad, between Mahdi Army militiamen and the police, who were apparently trying to stop them from heading to Najaf. He said five militiamen were killed after protesters attacked the police with bricks and stones. The report could not be independently verified.
"The situation is tense now in Simawa," al-Nadawi said.
The tensions followed two days of fierce battles pitting U.S. and Iraqi forces against Mahdi Army militiamen in Diwaniya. As U.S. combat aircraft launched air strikes, house-to-house clashes erupted. A curfew was still being enforced Sunday in the city and U.S. forces patrolled the streets, said Hamid Jiati, a Diwaniya health department official.
Al-Sadr is engaged in an uneasy cooperation with U.S. and Iraqi forces in Baghdad, particularly in his stronghold of Sadr City. He has ordered his fighters to stand down as U.S. troops patrol and conduct security sweeps and to avoid being provoked into battle.
It is unclear whether al-Sadr ordered the Diwaniya clashes, rogue elements of the Mahdi Army rose up or individual militiamen were defending their homes. But the clashes and al-Sadr's acerbic comments underscored the fragility of his cooperation with the new security offensive.
"Up until now, we have not made any decision to clash against the American or the Iraqi forces," Sheik Salah al-Ubaidi, a close aide to al-Sadr, said in a telephone interview from Najaf.
Among the six U.S. casualties Sunday, three of the soldiers were killed in a roadside bomb attack during a patrol south of Baghdad; one was killed in a separate attack south of the capital; and two died of wounds from combat operations in Diyala province and Salahaddin province, the military said. An explosion near a military vehicle Saturday in Diyala province killed four soldiers, the military said.
Copyright 2018 The Lawrence Journal-World. All rights reserved. This material may not be published, broadcast, rewritten or redistributed. We strive to uphold our values for every story published.