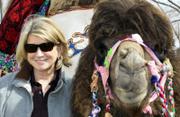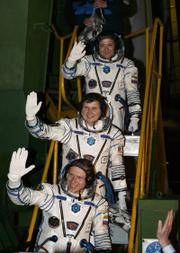 Baikonur, Kazakhstan — A Russian rocket carrying the American billionaire who helped develop Microsoft Word roared Saturday into the night skies over Kazakhstan, sending Charles Simonyi and two cosmonauts soaring into orbit on a two-day journey to the international space station.
Climbing on a column of smoke and fire into the clouds over the bleak steppes, the Soyuz TMA-10 capsule lifted off at 11:31 p.m. local time, casting an orange glow over the Baikonur cosmodrome and dozens of officials and well-wishers watching from about a mile away.
The capsule turned northeast and moved downrange before entering orbit about 10 minutes later. It was scheduled to rendezvous with the station Monday.
Among those bidding farewell was Simonyi's friend Martha Stewart, who watched the launch from a location separate from other spectators.
After seeing Simonyi off for final preparations, Stewart spent the final hours before the launch aboard another mode of transportation common to this part of Kazakhstan's steppes - a camel.
"The ride was excellent," she said.
Inside the capsule, Simonyi and cosmonauts Fyodor Yurchikhin and Oleg Kotov grinned for the onboard camera, gave the thumbs-up sign and batted at a toy black cat hanging from rope - a token of good luck chosen by Kotov and named after his two children.
Simonyi, a 58-year-old native of Hungary, paid $25 million for the 13-day trip, the fifth such paying "space tourist," or "space flight participant," as officials prefer to call them.
"I think for Charles it is a dream come true," said Victoria Scott, a friend who watched the liftoff as others drank champagne toasts and chanted "Charles! Charles!"
In a posting on the blog he intends to maintain while in orbit, Simonyi said he spent his final day before liftoff getting a haircut and a therapeutic massage and watched a traditional showing of a classic Soviet-era war film.
There was no mention of Stewart on the blog, but Simonyi did make reference to one of the lesser-known, last-minute traditions for cosmonauts heading into space - urinating on the tire of the bus transporting them to the launchpad.
Three days after arriving at the station and greeting its current occupants - Russian cosmonaut Mikhail Tyurin and American astronauts Miguel Lopez-Alegria and Sunita Williams - Simonyi will treat the crews to a gourmet meal, chosen by Stewart, in honor of Cosmonauts' Day, the Russian day commemorating Yuri Gagarin's historic 1961 flight into space.
The menu includes quail roasted in Madiran wine, duck breast confit with capers, shredded chicken parmentier, apple fondant pieces, rice pudding with candied fruit, and semolina cake with dried apricots.
Simonyi had said he would bring with him the paper computer tapes that he used decades ago when he first learned programming on a bulky Soviet machine called Ural-2. He emigrated to the United States in 1968 and eventually worked at Microsoft Corp., helping to develop Word and Microsoft Excel before founding his own software company.
While at the space station, Simonyi will be conducting a number of experiments, including measuring radiation levels and studying biological organisms inside the lab.
He is to return to Earth on April 20 with Tyurin and Lopez-Alegria.
Copyright 2018 The Associated Press. All rights reserved. This material may not be published, broadcast, rewritten or redistributed. We strive to uphold our values for every story published.