Baghdad, Iraq — Heavily armed gunmen on Wednesday abducted 22 Shiite shepherds who were tending thousands of sheep and had wandered into a dangerous Sunni area west of Baghdad, while six power plant workers were gunned down in northern Iraq.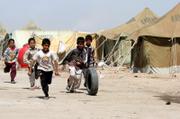 The attacks reflected the spread of sectarian violence outside Baghdad as violence declines in the capital, where a U.S.-Iraqi security crackdown is in its eighth week.
The shepherds had traveled from the Shiite holy city of Karbala to a greener stretch of land in the vast area around Amariyah, some 25 miles west of Baghdad in the Sunni-dominated Anbar province, Karbala police spokesman Rahman Mishawi said.
A shepherd who escaped the attack said about 20 men with automatic rifles drove up in vehicles and opened fire on the group as their several thousand sheep were grazing.
"I suddenly realized that we must be near Amariyah and that Sunnis were attacking us," he said, speaking on condition of anonymity for fear of reprisals. "Six of us were able to flee in our pickup but unfortunately they kidnapped 22 friends of mine and stole our sheep."
Jassim al-Wandi, a relative of one of the kidnap victims, appealed for their release.
"They are peaceful people and very easygoing. What was their sin that could justify stealing their animals on which their daily life depends?" he said.
In all, at least 34 people were killed or found dead in Iraq on Wednesday, including the six Sunni Arab men killed in an ambush near the oil-rich northern city of Kirkuk.
The gunmen drove by in two cars and strafed a minibus in Manazlah as it was taking the men to work at a power station, local army commander Maj. Gen. Anwar Mohammed Amin said. Two of the six killed were engineers, he said.
The attack came two days after a suicide truck bomber struck a police station in a Kurdish neighborhood in Kirkuk, killing 15 people, including a newborn girl and a U.S. soldier. Nearly 200 people were wounded.
Ethnic and religious tensions have been rising in Kirkuk after the government adopted a plan to relocate thousands of Arabs who were moved to the city 180 miles north of Baghdad decades ago in Saddam Hussein's campaign to displace the Kurds.
Police reported finding the bodies of nine bullet-riddled torture victims in Baghdad, the second-lowest total since the security operation began Feb. 14. The decline in such sectarian killings has been attributed to orders by Shiite cleric Muqtada al-Sadr that has kept Shiite militias largely off the streets.
U.S. military spokesman Maj. Gen. William Caldwell said al-Qaida in Iraq was trying to undo that deal and "ignite a cycle of tit-for-tat violence," but he expressed cautious optimism they would not succeed. "There are encouraging signs that more people are buying into restraint instead of retribution," he said.
Caldwell said sectarian violence dropped 26 percent from February to March in Baghdad. But he was largely referring to execution-style killings and assassinations usually blamed on Shiite death squads and acknowledged the military remained "extremely concerned" about high-profile bomb attacks that have killed more than 300 people in the past eight days.
Bloodshed has increased elsewhere in Iraq because insurgents and militiamen moved operations out of the capital in advance of the security crackdown.
Copyright 2018 The Associated Press. All rights reserved. This material may not be published, broadcast, rewritten or redistributed. We strive to uphold our values for every story published.