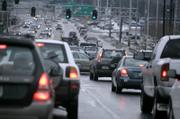 Washington — The Supreme Court coupled its first decision on global warming with a plea to anyone elsewhere in government who might be listening: Do something.
Justice John Paul Stevens wrote a majority opinion Monday that stressed the U.S. contribution to climate change and the potentially calamitous consequences. The case concerned pollution from cars.
"A reduction in domestic emissions would slow the pace of global emissions increases, no matter what happens elsewhere," he wrote for the divided court.
To date, Stevens said, the Environmental Protection Agency has offered a "laundry list" of reasons not to regulate those emissions.
The court stopped short of ordering the agency to step in, but it left no doubt that it finds the Bush administration's response to global warming inadequate.
"EPA has offered no reasoned explanation for its refusal to decide whether greenhouse gases cause or contribute to climate change," Stevens said in an opinion that was disputed by Chief Justice John Roberts and three conservative colleagues.
The 5-4 ruling could encourage faster action in Congress on climate change and lead to more fuel-efficient cars as early as next year.
The politics of global warming have changed dramatically since the court agreed last year to hear its first case on the subject, with many Republicans as well as Democrats now pressing for action. However, the administration has argued for a voluntary approach rather than new regulation.
The reasoning in the court's ruling also appears to apply to EPA's decision not to impose controls on global warming pollution from power plants, a decision that has been challenged separately in court, several environmental lawyers said.
In the short term, the decision boosts California's and 11 other states' prospects for gaining EPA approval of their own program to limit tailpipe emissions, beginning with the 2009 model year.
Those cars begin appearing in showrooms next year. Emission limits would become stricter each year until 2016.
Automobile makers have said stricter emission limits would be accomplished by increasing fuel-economy standards.
Reacting to the court ruling, the automakers called for an economy-wide approach to global warming, cautioning that no single industry could bear the burden alone.
Monday's ruling also improved the odds that Congress would take action on comprehensive legislation to reduce global warming, according to business groups, environmental advocates and lawmakers. Several measures already have been introduced.
Copyright 2018 The Associated Press. All rights reserved. This material may not be published, broadcast, rewritten or redistributed. We strive to uphold our values for every story published.