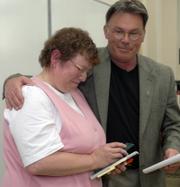 Austin Barone, a seventh-grade student at Bishop Seabury Academy, knew that Judith Galas was a great teacher.
After all, she got him to do his homework on time.
"I used to be a really bad procrastinator," Barone said. "But now I actually prepare to come to school."
Galas, who teaches seventh- and 10th-grade English and journalism at Bishop Seabury, was one of two educators on Monday who received the Mayor's Excellence in Education Award from Mayor Mike Amyx.
Galas was joined by Pam Shanks, a preschool and special education teacher at Raintree Montessori School.
Amyx said both teachers shared a common quality.
"It is great to be able to recognize people who put their heart and souls into children," Amyx said.
Galas has been at Bishop Seabury for the past six years, but she has worked as a teacher for about 20 years. Shanks has been at Raintree since 1980.
Both have some firm philosophies that guide their careers.
"I really believe every child should have the opportunity to experience joy," Shanks said.
Galas said she uses classroom lessons to teach larger life lessons.
"I always try to remember that the biggest thing I have to teach them is how to be a good person," Galas said.
Administrators at both schools also said the teachers were well-deserving of the award.
Lleanna McReynolds, director of Raintree, said Shanks had the "strongest work ethic" she had seen.
Chris Carter, head of school at Bishop Seabury, said Galas engaged her students with tough ethical questions and challenged them to think of issues they hadn't previously considered.
"Like really great teachers, she doesn't sell kids short," Carter said of Galas. "She knows they can do great work, and then expects them to do so."
Both teachers were honored as part of surprise ceremonies at their schools.
The city has been honoring teachers with the Mayor's Excellence in Education Award each year since 2003.
Amyx plans to give out one more award in a surprise ceremony today at Lawrence High School.
Copyright 2018 The Lawrence Journal-World. All rights reserved. This material may not be published, broadcast, rewritten or redistributed. We strive to uphold our values for every story published.