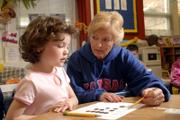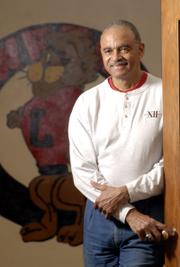 A kindergarten teacher and a high school English teacher have been named this year's top public school teachers in Lawrence.
Lynn Heffley, a kindergarten teacher at Pinckney School, and Ron Lang, a longtime Lawrence High School English teacher, were honored Friday in separate surprise presentations.
The district will submit Heffley's nomination to the Kansas Teacher of the Year program sponsored by the Kansas State Department of Education, which requires nominees to teach in 2007-2008. Lang plans to retire at the end of the year.
"I'm flabbergasted," Heffley said after Superintendent Randy Weseman made the announcement at a before-school assembly at Pinckney, 810 W. Sixth St.
Weseman said Heffley was "one of those rare people, one of those rare individuals, who has taught for many years but remains excited and dedicated about teaching every day."
After the presentation, Heffley said she enjoyed teaching kindergartners.
"I love this age. They just love to learn," she said. "They're excited about learning. They need to learn by experience and hands-on."
Heffley said her advice to new teachers is to "teach to the whole child."
"There's a lot more than just the academics, which we work very hard on," Heffley said. "But there's a lot more social and emotional and physical things that are part of those children, too."
Heffley is in her 25th year of teaching locally. She has taught kindergarten at New York and Wakarusa Valley schools and developmental first grade and kindergarten at Pinckney. She also taught first grade in McLouth and preschool in Lawrence. She has a bachelor's degree from Kansas University.
Heffley says she supports the school district moving from half-day to full-day kindergarten.
"We have such a big curriculum and we rush children so much. It's hurry up, hurry up, hurry up," she said. "We don't have the practice time it takes. Everyone needs practice to learn. And we could do that in fun, integrated ways if we had all day."
Lang, who started teaching in 1969 and has taught at LHS for the last 34 years, was named the local secondary teacher of the year.
There was no school for high school students Friday because it was a recording and reporting day. But Weseman made the presentation as teachers gathered Friday morning in the cafeteria at LHS, 1901 La.
"It's been a heck of a ride. I can't believe where the time has gone," Lang said later.
Lang has taught physical education, language arts and English and has coached basketball at LHS.
Before coming to Lawrence, he taught two years in Roswell, N.M. He has bachelor's and master's degrees from KU.
"What's kept me in teaching has gone beyond a paycheck," he said.
Lang said he enjoys knowing he is teaching the next generation of adults. He's seen many of his former students grow up to be gainfully employed taxpayers and voters - and he's even taught their children.
"Every new batch of students adds variety and keeps me young and keeps me motivated," he said.
Copyright 2018 The Lawrence Journal-World. All rights reserved. This material may not be published, broadcast, rewritten or redistributed. We strive to uphold our values for every story published.