Almaty, Kazakhstan — Gleaming hotels, the region's best pastrami sandwiches and the planet's largest population of wolves: these are things Kazakhs want the world to know about their country, not the outrageous claims of the British comedian who portrays them as primitive and bigots.
Kazakhstan has placed ads in U.S. newspapers and on TV to get its message across.
Authorities say the campaign was meant to coincide with President Nursultan Nazarbayev's visit to the United States, where he met Friday with President Bush. But it also comes as comic Sacha Baron Cohen, creator of a fictional Kazakh reporter known as Borat, launches a full-length movie based on the character.
The homophobic, misogynistic, English-mangling Borat - who portrays Kazakhs as addicted to horse urine, fond of shooting dogs and viewing rape and incest as respectable hobbies - has mortified the government of this former Soviet republic.
In four-page advertising inserts and 60-second television infomercials, Kazakhstan is touting its cash machines, sushi bars and high-tech conference centers - all products of rapidly cascading oil wealth. The ads sing the praises of the energy-rich Central Asian country's nuclear disarmament campaign, its breathtaking natural resources and its breakneck economic growth.
Although the world's ninth-largest country by area, Kazakhstan has a population of just 16 million and has been a blank spot on the mental map of much of the world. Its very obscurity provides Cohen with an empty canvas to paint an outlandish portrait of a country emerging from the Soviet yoke.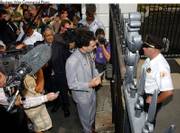 "The country is unknown," Kazakh Embassy spokesman Roman Vassilenko acknowledged Thursday. "That's why perhaps he chose Kazakhstan as his fictional home country. But really what he presents is not Kazakhstan, as many people know, it is a kind of 'Boratistan.' It is a country of one.
"People in their sane minds would probably know that any real country cannot be like what he describes in his show."
In typical fashion, Borat shot back at the nation's ad campaign - and the embassy spokesman.
"Recent advertisements in television and in media about my nation of Kazakhstan saying that women are treated equally and that all religions are tolerated - these are disgusting fabrications. These claims are part of a propaganda campaign against our country by evil nitwits Uzbekistan," Cohen, in his Borat persona, said Thursday outside the Kazakh Embassy in Washington.
"There is a man named Roman Vassilenko, who is claiming to be the press secretary of Kazakhstan," the comic added. "Please, don't listen to him: He is a Uzbek impostor, and is currently being hunted by our agents."
Kazakhs are proud both of their nomadic ancestry and their modern achievements.
The world's first satellite and astronaut were launched from the desolate Kazakh steppe. Kazakhstan boasts double-digit economic growth and immense oil reserves. It recently led an effort to proclaim the Central Asian region a nuclear-free zone.
The government sees Nazarbayev's U.S. trip as its chance to cement Kazakhstan's place as the West's favorite partner in formerly Soviet Central Asia.
For his part, Borat claims the true aim of Nazarbayev's trip is to promote his film, "Borat: Cultural Learnings of America for Make Benefit Glorious Nation of Kazakhstan" - and that he will be co-hosting a preview.
"This screening will be followed by cocktail party and a discussion of closer ties between our countries at Hooters," Borat said on his Web site.
The movie, which debuted this month at the Toronto film festival, opens in U.S. cinemas in November. The Kazakh government says it isn't planning to ban it, but the manager of the nation's biggest cinema chain said it wouldn't screen the film.
"Didn't you see what nonsense it says about Kazakhstan? All our traditions and customs are distorted. It says that we still live in yurts and so on," said Ruslan Sultanov, referring to traditional tents made of skins or felt. "There's no point showing it. Spectators will not watch something like that."
But Paryz Baitenov, whose independent 31 TV Channel is planning to produce a report on Borat, looks at the character's antics differently. "I don't know any more brilliant promoter of Kazakhstan than Borat," he said.
"Of course it's not politically correct. But it's funny."
Copyright 2018 The Associated Press. All rights reserved. This material may not be published, broadcast, rewritten or redistributed. We strive to uphold our values for every story published.