The former chairman of the Joint Chiefs of Staff said Wednesday night that America and her allies needed to continue the long-term war on terror, including in Iraq and Afghanistan, to combat violent extremists.
U.S. Air Force Gen. Richard B. Myers, a graduate of Shawnee Mission High School and Kansas State University, encouraged the public to read as much as possible of the National Intelligence Estimate, portions of which were recently declassified and which said the Iraq war has become a "cause celebre" for jihadists.
"It shouldn't be surprising that violent extremists, al-Qaida in this case, would rally to the sound of the cannon. They'll do that," he said. "It doesn't mean that if there weren't the sound of the cannon, there wouldn't be people rallying to the cause, nor would we be any safer."
Myers spoke to more than 100 people at Lawrence Country Club. He visited to address the Jayhawk Chapter of the Military Officers Association of America. Guests and ROTC cadets and midshipmen also attended.
Myers, who became chairman of the Joint Chiefs just after 9-11 and retired one year ago, voiced his opinion for staying the course in a global terror war the same night that former Clinton Administration Secretary of State Madeleine Albright told a Lied Center crowd that the NIE report confirmed that the Iraq war made the world less safe in the fight against terrorism.
Myers said Osama bin Laden and al-Qaida declared war on the United States in 1998 and that the terrorist group has expressed a 100-year view of taking over the world.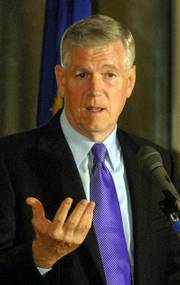 That's why, Myers says, continued progress needs to be made in Iraq and Afghanistan, not just through the military, but through other means, including economic, diplomatic, educational and informational "to keep men and women from joining jihad in the end."
But the death toll in Iraq continues to climb.
The sectarian violence there has complicated matters, Myers said. He also said it would be "disastrous to the Iraqi people and disastrous to the longer war" to pull out too soon.
"We would be perceived one more time by violent extremists as weak - weak morally and weak culturally," he said.
Leadership from the Iraqi government is the primary need. In both Iraq and Afghanistan, the mission is to create functioning states rather than training grounds for al-Qaida, Myers said.
He also said the current wars in Iraq should be viewed in historical perspective with the larger terrorism conflict in mind.
"This is not World War I or World War II. This is asymmetric warfare," Myers said. "Most insurgencies run their course - modern insurgencies in six to nine years. So they are usually controlled not through military force but through political means."
He spoke on several issues ranging from personal stories about returning to civilian life to his perspectives on President Bush and Defense Secretary Donald Rumsfeld.
"He's not the person you see in the press coverage," Myers said of Rumsfeld. "He's a very collaborative decision maker."
Audience members asked Myers about retired military officers who have criticized Rumsfeld.
Myers called it "very inappropriate" for retired senior military officers to criticize civilian military leaders. It sets a bad example of trust for military personnel still in the ranks, he said.
"I disagree. They are citizens and free to criticize, but I think (Myers) did a wonderful job, and I certainly support our military 100 percent," said Jerry Nossaman, of Lawrence, a retired Navy captain.
Myers addressed another question about policies on interrogation and torture.
"It happens in a big operation. It shouldn't happen, and people have been held accountable for it," he said.
Myers earned a standing ovation at the end of his speech and laughs at several points, including when he joked about the college rivalry between Kansas University and K-State.
Copyright 2018 The Lawrence Journal-World. All rights reserved. This material may not be published, broadcast, rewritten or redistributed. We strive to uphold our values for every story published.