Baghdad, Iraq — Iraq's feuding ethnic and sectarian groups agreed Sunday to consider amending the constitution and begin debating legislation to create a federated nation, while the Shiite prime minister appealed for an end to violence during Ramadan.
Despite Nouri al-Maliki's plea for peace, violence killed at least 20 Iraqis and wounded 37 a day before the official start of the Muslim holy month. Two U.S. Marines died in combat in restive Anbar province west of Baghdad, the U.S. military said.
Shiite, Sunni Arab and Kurdish political leaders broke a two-week deadlock and agreed on a compromise that will allow parliament to take up Shiite-proposed draft legislation to permit creation of partly self-ruling regions.
Sunni Arabs have fought the federalism bill, fearing it will splinter the country and deny them a share of Iraq's oil, which is found in the predominantly Kurdish north and the heavily Shiite south.
But they agreed to a legislative debate after all parties accepted a Sunni demand that a parliamentary committee be set up to study amending the constitution. The committee will be named Monday and the federalism bill will be read to 275-member parliament a day later.
Sunni Arabs hope to win an amendment that would make it more difficult to establish autonomous regions.
The deal opened the way for Iraq's communities to move ahead politically and solve an impasse that threatened to further sour relations between them. If left unresolved, the deadlock could have further shaken Iraq's fragile democracy and led to more sectarian violence.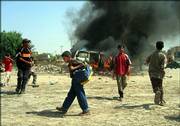 The parliamentary committee will be made up of 27 legislators from all ethnic, sectarian and religious coalitions and parties. It will have four months to propose amendments, which then would have to be approved by a majority in parliament before being put to a national referendum.
"I expect the work of the committee will last for about one year," Dhafir al-Anihe, a lawmaker with the Sunni Arab National Accordance Front, told The Associated Press.
The federalism bill will be read to the legislature Tuesday and then debated for two days before parliament breaks for the Iraqi weekend. The legislation would be read again, with any changes made by legislators, next Sunday.
A vote would come four days after the second reading, with the bill needing a simple majority for passage. If approved, it would be implemented 18 months later, according to the deal made by the parties, allowing time for consideration of constitutional amendments.
The legislation calls for setting up a framework that would allow creation of autonomous regions in the Shiite south, much like the self-ruling Kurdish region in northern Iraq.
Sunni Arabs warn that setting up such regions could intensify sectarian divisions that have brought months of retaliatory killings between Sunnis and Shiites.
Copyright 2018 The Associated Press. All rights reserved. This material may not be published, broadcast, rewritten or redistributed. We strive to uphold our values for every story published.