Washington — President Bush said Friday that if a U.S. official tried to strong-arm Pakistan into fighting the war on terror after the Sept. 11 attacks, he didn't know about it.
Standing beside Pakistani President Pervez Musharraf, Bush brushed off any idea of disagreement, praising Musharraf for pursuing terrorists, including Osama bin Laden.
"We're on the hunt together," Bush said after an Oval Office meeting with the general who is leader of the world's second-largest Islamic nation.
Musharraf has contended that after the Sept. 11 attacks, then-Deputy Secretary of State Richard Armitage told Pakistan's intelligence director that the United States would bomb the country if it didn't become a partner in the war against terrorism.
"The intelligence director told me that (Armitage) said, 'Be prepared to go back to the Stone Age,"' Musharraf told CBS' "60 Minutes" in a report to air Sunday. "I thought it was a very rude remark."
The president said he first learned of the purported conversation from news reports. "I just don't know about it," he said. "I guess I was taken aback by the harshness of the words."
Musharraf declined to comment further, citing a book deal.
"Buy the book," Bush quipped.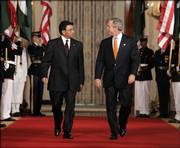 Armitage said he never threatened a military strike but did tell Pakistan firmly that "you are either for us or against us."
Armitage, who met with Musharraf on Thursday, told Associated Press Radio concerning the bombing quote: "I was not authorized to say something like that. I did not say it."
In Pakistan, Ameer ul-Azeem, a spokesman for the hard-line opposition Islamic coalition Mutahida Majlis-e-Amal, said Musharraf's contention would anger Pakistani people who have long believed that they were forced "at gunpoint" into supporting the war on terror.
Bush's meeting with Musharraf, following the president's U.N. speech on Tuesday, gave the White House a new chance to persuade voters that Republicans have better credentials than Democrats on national security. However, with the November congressional elections approaching, it also offered a reminder that bin Laden is still on the loose five years after the Sept. 11 attacks.
In a recent interview, Bush said he would order military action inside Pakistan if intelligence indicated that bin Laden or other top terror leaders were hiding there. Some Pakistani officials took issue with that, saying that Pakistan was a sovereign country.
"All I can tell you is, is that when Osama bin Laden is found, he will be brought to justice," Bush said.
Musharraf shrugged off the issue as an exercise in semantics.
"We will deal with it. We are on the hunt together," Musharraf said.
Copyright 2018 The Associated Press. All rights reserved. This material may not be published, broadcast, rewritten or redistributed. We strive to uphold our values for every story published.