Kansas University quarterback Kerry Meier sat out Sunday's practice because of an undisclosed injury that took place in the fourth quarter of Friday's game at Toledo, coach Mark Mangino revealed Sunday.
The setback occurred at the end of a run when Meier was "rolled under a pile" Mangino said.
"I asked him if he was OK, and he said he was," Mangino said. "After the game, I found out he really wasn't.
"He's a 19-year old kid that's extremely competitive. He didn't want to come off the field. He got nicked up, and it affected his range of motion. We could tell after the fact, watching the tape."
Consistent with his policy, Mangino wouldn't disclose what exactly ailed Meier. He did say that KU's orthopedic surgeon examined Meier and noticed bruising, but determined that the red-shirt freshman should be fine in a day or two, which means he shouldn't miss another practice.
He's expected to be completely healthy for Saturday's game against South Florida.
"He's a tough customer," Mangino said. "That type of mentality in the long run will benefit us."
Meier was 23-of-41 passing for 243 yards and two touchdowns in the 37-31 double-overtime loss to the Rockets. However, he accounted for five turnovers, including two in the overtimes that crippled KU's chances. Those errors came after Meier declined an opportunity to come out when Mangino asked if he was hurting.
"We're not making any excuses. Hindsight is always 20-20," Mangino said. "But when you consider all the other things he did in the game, he kept us in the game. He's the guy that kept our offense in the game all night long."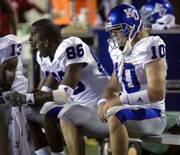 Mangino refused to speculate on whether Meier's pain caused the late turnovers.
"I made a coaching decision to leave him in the game," Mangino said. "It there's any turnovers that were thought to be attributed to him, attribute them to me."
¢ Como fine: On two different occasions, defensive end Paul Como was tended to by trainers after making a play in the second half Friday. He's not injured, though.
"Paul's doing OK," Mangino said. "He played his tail off."
¢ Sure hands: With wide receiver Jonathan Lamb probably possessing the best hands on the team, Mangino saw him as a reliable option to return punts Friday, instead of home-run threat Brian Murph.
"Murph has done some good things, but he has to prove every day in practice that he's going to field the ball cleanly," Mangino said. "We're not going to put him in a situation where he turns the ball over. i'd like to see Murph secure the ball and be the guy on a full-time basis."
¢ Up next: Kansas now starts preparing for South Florida, a Big East program out of Tampa, Fla. USF is 3-0, beating McNeese State by 31 points before squeaking by Florida Internatioal (21-20) and Central Florida (24-17).
Kickoff is 6 p.m. Saturday from Memorial Stadium. The game will be televised by Fox Sports Net (Sunflower broadband channel 36).
Copyright 2018 The Lawrence Journal-World. All rights reserved. This material may not be published, broadcast, rewritten or redistributed. We strive to uphold our values for every story published.