John Phythyon has acted with a Western drawl. And he's acted with a British accent.
But he's never used both in the same musical before.
"You have to keep in your mind which one you're doing," Phythyon says. "You have to be authentic in two different ways, and speak authentically in two ways. There's no margin for error."
That's the challenge facing the six-member cast of "Chaps!" The musical opens the 30th anniversary season for the Lawrence Community Theatre on Friday and runs through Oct. 8.
The musical, written in 1995 by Malcolm Hillgartner and Jahnna Beecham, shows what happens when the worlds of BBC radio and cowboy music collide.
It's set in 1944, and the American Tex Riley and his band of singing cowboys are supposed to be at the BBC studios for a special broadcast for the troops in the front lines of World War II. But they get lost on the way to the station, leaving BBC employees scrambling to put on a cowboy music show of their own.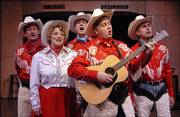 The show has a small cast of six. In addition to Phythyon, cast members are Dean Bevan, Peter Hansen, Jason Hart, Charles Whitman and Sarah Young.
"It just juxtaposes two such completely different things - campy, exaggerated British humor with some really bad jokes in there, and the cowboy songs we all remember," says Mary Doveton, who both directs the Lawrence Community Theatre and is directing this musical.
Tunes showcased in "Chaps!" include "Tumblin' Tumbleweeds," "Cool Water," "Back in the Saddle Again" and "Ride Cowboy Ride."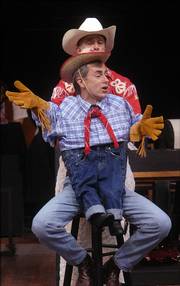 "More so than most musicals," Bevan says, "there's just enough plot to tie the songs together. And it's four- or five-part harmony, so it's not as simple as learning a melody."
Indeed, cast members say the music - in addition to remembering when to play a British character, and when to play a British character pretending to be an American cowboy singer - is one of the biggest challenges of the show.
"The harmony is really, really tight," Phythyon says. "You have to know your note, and know when you're missing it. It's the most difficult singing I've done."
Doveton says she thinks the musical will appeal to pretty much anyone, whether they grew up with the music or not.
"It really doesn't have a specific age range or interest," she says. "There's something everyone will find funny, and they'll appreciate the musicianship."
Hansen says he's appreciated learning the music himself.
"It's all tongue-in-cheek," he says. "I'm having fun with the music and learning these songs I'd heard before but never really knew."
Copyright 2018 The Lawrence Journal-World. All rights reserved. This material may not be published, broadcast, rewritten or redistributed. We strive to uphold our values for every story published.