Washington — Those three dollars you've set aside in your tax returns as a good deed toward clean presidential elections? Forget about it. Nobody wants them anymore.
Strategists from both parties estimate the White House race in 2008 could cost each nominee $500 million - far more than the Presidential Election Campaign Fund can afford. As a result, this next presidential campaign could mark the first time in 30 years that the Democratic and Republican nominees turn down the fund's millions in both the primary and the general elections.
"The public financing system was a great system, but it's broke," said Steve Elmendorf, the deputy campaign manager for Democrat John Kerry when the Massachusetts senator ran in 2004.
"There's not enough money in it anymore. It's highly unlikely that any candidate in any party will stay in the public funding system," Elmendorf said.
Bush declined in 2000
The decision has precedent.
George W. Bush declined the public money in the 2000 GOP primaries, when he was a first-time candidate, and did so again in 2004, when he sought re-election. Democrats Howard Dean and John Kerry made the same choice in 2004.
Still, Bush and Kerry each accepted $74.5 million from the fund to run their general election campaigns. For 2008, the amount could reach $85 million per nominee.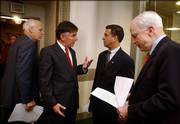 If the major party candidates decline the general election funds in two years, they in effect would kill one of the chief post-Watergate overhauls in campaign law.
The fund, which is expected to have about $200 million by the end of 2007, still would help pay for party presidential nominating conventions and assist primary candidates who do not raise large amounts of money.
More than ever, the first cut in the presidential sweepstakes will not result from the early contests of 2008, but from candidates' ability to stockpile huge amounts of money the previous year. That means potential candidates will ramp up their fundraising far sooner than they ever have in the past.
The 'Wild West'
"The 2008 presidential election is going to be the Wild West," said Michael Toner, the Republican chairman of the Federal Election Commission. "Upward of $500 million is the likely goal of presidential fundraising per candidate."
Of Republicans considering a run, the four whose PACs have raised the most money are Sens. John McCain, of Arizona; and Bill Frist, of Tennessee; former New York Mayor Rudy Giuliani; and Massachusetts Gov. Mitt Romney.
At the top of the Democratic money list are former Virginia Gov. Mark Warner and Sens. Kerry, Hillary Rodham Clinton, of New York, Evan Bayh, of Indiana and Barack Obama, of Illinois.
Clinton stands out above the rest because as of Aug. 23, she also had $22 million in her Senate campaign fund. She can transfer this money directly into a presidential contest.
No one represents the crossroads of presidential ambition and campaign finance activism more than McCain. His name is synonymous with tough election laws that have banned parties from collecting unrestricted and unlimited amounts of money.
McCain may pass on funds
But McCain is among those prepared to forgo the public financing system in 2008, according to strategists working with him.
He caused a stir this summer when he did not sign on as one of the congressional supporters of legislation that would overhaul the system. The main proponents were his old allies on the campaign finance law - Sen. Russ Feingold, D-Wis., and Reps. Christopher Shays, R-Conn., and Martin Meehan, D-Mass.
The measure would triple the amount available to candidates during state primaries and eliminate the state spending limits. It also would offer more money to candidates whose opponents chose to decline the money and raise more on their own.
In an interview, McCain said he supported the measure and said that if it passed he would live by the new rules.
"We're either going to upgrade it like it's envisioned in this legislation or nobody's going to take it, or very rarely will people take it," McCain said. But he added, "If you have to play by the rules as they are, that's very different."
Strict spending restrictions
Under current rules, no one can take the public money without agreeing to strict spending restrictions. Had Bush or Kerry accepted the money in 2004, they would have been limited to spending less than $45 million each in the primaries. Operating outside the system, Bush raised nearly $270 million and Kerry $235 million.
What's more, not everyone assigns $3 to the presidential campaign fund in tax returns. That has left periodic shortfalls in the fund, forcing the FEC and the Treasury to lower the initial payout to primary election candidates.
Campaign strategists and campaign finance analysts say they can imagine the new crop of presidential candidates concluding that the entire government handout is not worth the trouble.
"Anybody who takes federal funding will do so at their own peril because they will be dramatically outspent," said Tom Rath, a Republican National Committee member from New Hampshire
Rath, echoing others, believes the minimum that top-tier candidates will have to have in hand at the end of 2007 will be "clearly north of $50 million."
Once the parties have their nominees, the candidates will have to decide whether to settle for the guaranteed total - estimated up to $85 million depending on inflation - or decline the money and raise more on their own. It seems inevitable, though, that if one party's nominee declines the money, the other will, too.
Under existing law, the party nominees get their general election money after their respective political conventions.
"If you don't accept public money in the general there is a much greater chance that you will suffer from public criticism and reprobation because it'll look like you're just going to buy the election," said Don Fowler, chairman of the Democratic Party during Bill Clinton's 1996 re-election.
Copyright 2018 The Associated Press. All rights reserved. This material may not be published, broadcast, rewritten or redistributed. We strive to uphold our values for every story published.