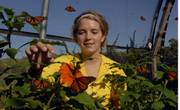 The royal colors of the monarch butterfly this season are the strongest in years, experts say.
Optimal breeding conditions months ago helped butterflies heading north produce a large number of offspring, said Chip Taylor, Kansas University ecology and evolutionary biology professor and director of Monarch Watch.
"The temperatures were perfect," he said. "The moisture conditions were perfect."
Now on their way south to Mexico for the winter, thousands have made a pit stop at the Baker Wetlands. They typically can be found there in September and October.
And Lawrence's Monarch Watch and Jayhawk Audubon Society plan to take advantage of the colorful creatures with a tagging event this weekend.
Area residents can tag butterflies from 7:30 a.m. to 11:30 a.m. Saturday at the Baker Wetlands.
Taylor said he hoped the event drew a larger crowd than the record turnout in 2001 when 325 people tagged 3,000 butterflies. At least 85 of those tagged butterflies were recovered at winter roost sites in Mexico.
Last year, members of the Papalotzin project, a Monarch conservation group, stopped in Lawrence on their way to Mexico as the group members followed the migration in an ultralight plane. A film crew interviewed Taylor as part of that project.
Taylor said a German film crew will be at the tagging event this weekend.
Although the butterflies produced a large population this year, if dry conditions in Texas and southern Oklahoma do not diminish soon, many of the butterflies could perish on the way to Mexico, Taylor said.
"It means there aren't going to be any flowers. It means there isn't going to be any water and there isn't going to be any nectar," he said.
Copyright 2018 The Lawrence Journal-World. All rights reserved. This material may not be published, broadcast, rewritten or redistributed. We strive to uphold our values for every story published.