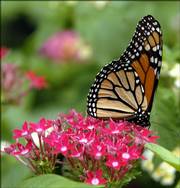 If you don't see a monarch butterfly this year, you're not outdoors enough.
When the fluttering insects head south for the winter, it'll be one of the biggest parades in years, predicts Chip Taylor, Kansas University ecology and evolutionary biology professor and director of Monarch Watch.
"It's going to be one of the bigger populations we've seen this decade," Taylor said of the fall migration. "How big it's going to be compared to all-time populations, we don't know yet."
The reason: good conditions at nearly every flutter of the wing.
Monarchs dependon the weather to provide the right climate for living and breeding. The monarchs experienced good conditions earlier this year when heading north. And now, watchers are seeing high numbers in many of the northern breeding grounds.
"Everything depends on how it goes from month to month," Taylor said. "If you have a bad month, it can take the wings out of the air, so to speak."
Each year, millions of butterflies head south from Canada to spend the winter in the protected pine and fir forests in Mexico.
Many anticipate their delightful pass through eastern Kansas.
"During those days, you look up and you'll just see 15 or 20 way up in the sky, just passing along," said Susan Iversen, a member of the Jayhawk Audubon Society. "It's really amazing."
The trek through the area will begin Sept. 8-11. The peak will be around Sept. 23. And monarchs will still be around into October.
But how awesome the sight will be in Lawrence is difficult to predict, particularly because it's unclear where those populations are coming from, Taylor said.
A hot, dry July in the Dakotas and Minnesota and Wisconsin hit the monarch population by hurting the milkweed, which monarchs feast on. But there should be good numbers of monarchs coming out of the more eastern areas, Taylor said.
Taylor, who is gearing up for an annual tagging gala in Baker Wetlands, said he hoped the event would match the one in 2001.
Despite the timing - on the heels of the 9-11 terrorist attacks - the 2001 tagging drew about 350 people who walked among the thousands of butterflies, tagging 1,800 monarchs in just a few hours.
"There are a lot of parallels between 2001 and this year," he said. "We're hoping that we'll see a large population out there."
Copyright 2018 The Lawrence Journal-World. All rights reserved. This material may not be published, broadcast, rewritten or redistributed. We strive to uphold our values for every story published.