For a month, Francisco "Vico" Gutierrez has been flying his ultralight airplane along the path of the migrating Monarch butterflies.
The pilot, who is tracking the annual butterfly migration from Montreal to Mexico, stopped at Kansas University on Monday. There he met with more than a dozen Monarch enthusiasts from across the region.
"For us this is about adventure, and I guess for the Monarchs, too," said Gutierrez, director of the Papalotzin project, which promotes Monarch butterfly conservation efforts.
Gutierrez was joined by other members of the Papalotzin project, including crews filming the voyage for a documentary and KU ecology professor Chip Taylor.
The crews are expected to leave today and head south to Oklahoma.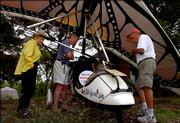 The voyage, supported by the World Wildlife Fund, isn't for scientific research. The aim is to raise awareness of the Monarchs' plight caused by habitat loss.
Each year, millions of the fluttering butterflies travel from Canada to Mexico to winter in the protected pine and fir forests.
"It's a truly mysterious and marvelous phenomenon," Taylor said. "It's hard to describe."
But illegal logging in Mexico threatens the Monarch habitat. And development in the United States is another menace.
Gutierrez lives near the Monarch colonies in Mexico. He said he is taking part in the voyage because he, too, marvels at the butterflies' long flight and wants to preserve it.
"I wonder if my kids will see this phenomenon," he said.
Taylor said unlike other environmental causes, this is one where individuals can help quickly and relatively easily. Taylor, director of Monarch Watch, encourages creating a space, with milkweeds and nectar sources, that caters to Monarchs.
"We can get our hands dirty, and we can have fun," Taylor said. Monarch Watch's Web site is www.monarchwatch.org.
The visit drew Mary McCoy, an entomologist and professor at Washburn University in Topeka.
McCoy's students helped tag Monarchs at the Baker Wetlands later in the day. She said she urged her students to skip class and come to meet the Papalotzin project crew.
"I said: 'This is a historical event,'" she said. "'You've got to come.'"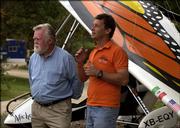 Sharon Dahlquist, a retired teacher from Kansas City, Kan., stopped to learn. Dahlquist tends a butterfly garden at an elementary school. She takes small groups of students to lunch in the garden.
She planned to tell students about the Papalotzin project.
"It's making it more relevant for the kids," she said.
Janette and Forrest Holdeman's house in Lansing is a hot spot for Monarchs. The butterflies flock to the sheltered space, Janette Holdeman said. And when the Holdemans walk by, the butterflies flutter silently around them.
"It's beautiful," Janette Holdeman said.
Copyright 2018 The Lawrence Journal-World. All rights reserved. This material may not be published, broadcast, rewritten or redistributed. We strive to uphold our values for every story published.