Monarch butterflies are in trouble.
"In four out of the last five years, spring population numbers have been really down," said Chip Taylor, an ecology professor at Kansas University. "And last winter's numbers were the lowest ever recorded at the over-wintering sites in Mexico."
To offset the decline, Taylor, who also directs KU's Monarch Watch research program, hopes to create 10,000 "waystations" over the next three years.
"The idea, really, is to get people to plant milkweed and other nectar plants," he said.
Monarchs lay eggs on milkweed plants. The caterpillars feed on the plants until they become adult butterflies. The adults then feed on nectar-producing flowers.
Taylor said he hoped to distribute more than 2,000 milkweed plants Saturday during Monarch Watch's annual Spring Open House from 8 a.m. to 3 p.m. at Foley Hall on KU's west campus.
"We'll be accepting contributions for the plants," he said. "This is our fund-raiser, too."
Other open-house activities will include observation tents with live butterflies, live displays featuring local and exotic insects, monarch videos, tagging demonstrations, an active bee hive and a lot of advice on how to attract butterflies.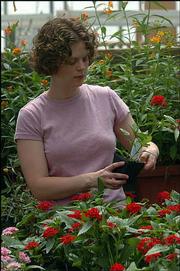 Taylor said he feared much of the monarch decline stemmed from urban sprawl and the development of herbicide-resistant crops.
Historically, farmers controlled weeds by tilling, a process that left enough milkweed to sustain monarch populations. But with the development of herbicide-resistant soybeans and corn, farmers have begun to use more herbicide.
"It's wiped out 80 million acres of milkweed in just the past five years," Taylor said.
Urban sprawl hasn't helped.
"Look at Lawrence," Taylor said. "When I came here 36 years ago, Lawrence encompassed something like two and a half square miles; today, it's more than 10 (square miles). All sorts of natural habitat is being gobbled up by urban development. It's happening here; it's happening all across the country."
What: Monarch Watch Spring Open HouseWhen: 8 a.m. to 3 p.m. SaturdayWhere: Foley Hall, Kansas University west campus
Copyright 2018 The Lawrence Journal-World. All rights reserved. This material may not be published, broadcast, rewritten or redistributed. We strive to uphold our values for every story published.