New York — Nearly 70 percent of the rescue and cleanup workers who toiled in the dust and fumes at ground zero have had trouble breathing, and many will probably be sick for the rest of their lives, doctors said Tuesday in releasing results of the biggest Sept. 11 health study yet.
The Mount Sinai Medical Center study is conclusive proof of a link between recovery work at the World Trade Center ruins and long-term respiratory problems, doctors said.
"There should no longer be any doubt about the health effects of the World Trade Center. Our patients are sick," said Dr. Robin Herbert, co-director of the group that has monitored the health of nearly 16,000 ground zero workers.
Herbert said that most of the patients in the study first came to ground zero between Sept. 11 and Sept. 13, 2001, which exposed them to asbestos, pulverized concrete, mercury and toxins that will leave them chronically sick.
Mayor Michael Bloomberg cast doubt on the study's claims, saying, "I don't believe that you can say specifically a particular problem came from this particular event."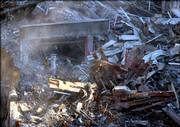 Dr. John Howard, who was appointed by the Bush administration in February to coordinate the various ground zero health programs, called the findings "extremely important" and said they support other researchers' work, including a study of city firefighters.
The study, to be published Thursday in the journal Environmental Health Perspectives, focused mostly on what has come to be called "World Trade Center cough" in 9,442 ground zero workers examined between July 2002 and April 2004.
In lung function tests, ground zero workers had abnormalities at a rate double that expected in the general population; these problems persisted for months and in some cases years after the exposure, the study found.
The study said that almost 70 percent of trade center responders had new or worsened respiratory problems during or after the attacks. Sixty-one percent of responders who had no health symptoms before the attacks developed problems while working at ground zero. One third of those tested had abnormal lung function, which Herbert said is a rate twice as high as the nonsmoking population.
Copyright 2018 The Associated Press. All rights reserved. This material may not be published, broadcast, rewritten or redistributed. We strive to uphold our values for every story published.