New York — After Katie Couric was introduced on her first night as "CBS Evening News" anchor by a Walter Cronkite voiceover, she delivered a fast-moving newscast that the legendary newsman might have found unrecognizable.
"Hi, everyone," she began. "I'm very happy to be with you tonight."
The rest of Tuesday's show featured outsiders delivering commentary, the first public pictures of Suri Cruise - they will appear in the Vanity Fair issue due on newsstands today - a lengthy exclusive on the Taliban and Couric asking viewers for help in crafting a distinctive signoff.
She arrived at CBS after 15 years as NBC's "Today" show host, where she was accustomed to always being first in the ratings. The "CBS Evening News" is third, but Couric has said that could be liberating, offering a chance to try new things in a format she has called formulaic.
That willingness was apparent even before the first commercial break - this was not a stentorian reading off dozens of news headlines.
On a relatively slow news day, CBS opened with chief foreign correspondent Lara Logan being escorted by a Taliban commander to view soldiers displaying their weapons less than 10 miles from a U.S. base.
Logan, dressed in black with only part of her face visible, was heard asking one of her guides, "Am I allowed to smile?"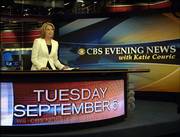 That story segued into a conventional report by White House correspondent Jim Axelrod on a speech given by President Bush on the terrorist threat.
In almost breathless fashion, Couric then zipped through a handful of headlines: a corporate turnover at Ford, mourning over the killed "crocodile hunter" - all before the first commercial.
Couric also introduced "Free Speech," a segment that will periodically feature outsiders giving a brief commentary. Morgan Spurlock, who made the film "Supersize Me," was first up, talking about how the nation's political divide is exaggerated by the media. Couric promised that Rush Limbaugh would be featured Thursday.
Couric's only real nod to her newbie status came at the end, with a joking report on her difficulties coming up with a signoff. She showed clips of Cronkite, Chet Huntley and Dan Rather and even fictitious anchormen Ted Baxter and Ron Burgundy giving their final words, then invited viewers to submit suggestions via the CBS News Web site.
"Thank you so much for watching," she said, "and I hope to see you tomorrow night."
A new 'View'
Earlier in the day, Rosie O'Donnell made her debut on "The View" and took the show to a whole new level of manic pandemonium.
In the first quarter-hour of the program, she talked about Tom Cruise, medicating herself, letting her "crazy haircut" grow out and being a lesbian, among other topics.
Then she gave away a cruise to every member of the audience.
Typical of "The View" of late, chaos reigned; adding O'Donnell's voice to the cacophony only increased the madness. When Jessica Simpson, the first guest of "The View's" 10th season, showed up, the hosts talked over each other and their guest. The pop starlet had trouble getting a word in edgewise.
Simpson did, however, manage to say for the record that she is not dating singer John Mayer, as People magazine has reported, that she hasn't found a way to avoid the paparazzi, and that she's doing just fine post-divorce.
O'Donnell was her typically feisty self, bristling when Joy Behar imitated one of her new co-host's children. O'Donnell glared at Behar and quipped, "And you all thought I was going to have problems with Elisabeth (Hasselbeck)."
"Trust me, you will," responded "View" creator Barbara Walters.
After the segment with Simpson, who sang in perfect voice despite having audible vocal-chord problems during the chat segment, O'Donnell recapped what she's done with her life since she quit her own daytime talk show four years ago. She talked about her Broadway activities, her family life, her blog and that infamously unattractive hair cut. She took full blame for the hairdo, which she sported just after her show ended, calling it "an error of epic proportions."
Speaking of errors, "The View" also debuted a hideous new set on Tuesday. Picking the color of the new set was a discussion topic for weeks before the show took its summer break, but the extensive chats didn't stop it from being horrible. The old set may have looked like "someone's grandmother's living room," as O'Donnell said, but at least it wasn't a textured, braying electric blue.
It was the only thing louder than Rosie on Tuesday.
Copyright 2018 The Lawrence Journal-World. All rights reserved. This material may not be published, broadcast, rewritten or redistributed. We strive to uphold our values for every story published.