Richard Horton's son was diagnosed with autism when the boy was 18 months old.
"He wouldn't hug me. He wouldn't speak. That was really devastating," Horton said.
Now in second grade, Horton's son needs a lot of attention and specialized teaching. He can't sit in class more than a couple of hours without becoming distracted. He sometimes echoes what people say to him.
"It's a difficult illness to deal with," Horton said.
That's why Horton was one of nearly 40 people who showed up Thursday night at the Lawrence Public Library, 707 Vt., to attend a meeting of the newly formed Lawrence Autism Society.
Most of those attending were parents of children who have autism. A few were educators and providers of services for those who have autism and their families.
"Thank God for this group, because I always kind of felt like I was alone," Horton said.
Finding resources
Thursday's meeting was the society's third since July, and it drew the most people, said Maria Brockman, who initiated the group.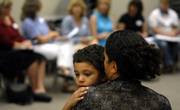 Brockman moved to Lawrence about a year ago from Maryland. Her now 4-year-old son has been diagnosed with autism.
"I didn't know where to go from there," she said. "I was spending pretty much all my time just getting a number here and a name there. One of the things I wanted to do at the time was come up with a resource packet for other parents."
Autism is a brain disorder that affects a person's ability to communicate, reason and interact with others. Sometimes called a spectrum disorder, it affects people differently, and its degrees of severity vary.
There is no cure for autism, but studies have shown that early intervention can help. A highly structured and specialized education program also can have a positive effect, according to Mayoclinic.com.
It is not clear how many people with autism there are in the Lawrence area, Brockman and others said. The Autism Society of America says one of every 250 babies born will develop some form of autism.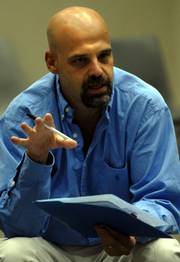 Autism is more common than childhood cancer, cystic fibrosis and multiple sclerosis combined, according to the national society.
Lawrence resident Kris Matthews also has a young son who suffers from autism. She says the local autism society has a means for helping provide support for families of those who have members suffering. It also can be a tool for advocacy and a source of information. Knowing about the availability of services is important and not everyone knows about those services, she said.
"They should be available everywhere, but it's a matter of access and infrastructure," Matthews said. "The more resources you have, the more you are able to get. We want to make sure people are connected to as much as they can get."
Lobbying the state
The Lawrence Autism Society wants to work closely with the Kansas Coalition for Autism, Brockman said. KCAL is an independent group of parents, service providers and other professionals advocating for legislation that supports the autism community in Kansas. It was co-founded by Michael Wasmer, who has served on the Kansas Governor's Commission on Autism.
"There is nothing on the books in Topeka that helps our community at all," Wasmer said during an appearance at last week's Lawrence meeting. "We're trying to unify the autism societies' voice."
Among the issues KCAL hopes to bring legislative attention to are providing scholarships to Kansas University students who want to become autism behavior analysts and keep them in the state after graduation, and better insurance coverage for families affected by autism.
The Lawrence Autism Society meets once a month. The next meeting will be 6 p.m. Sept. 26 at the library. Other activities also are being planned, Brockman said.
"I know there are other parents out there," she said.
Copyright 2018 The Lawrence Journal-World. All rights reserved. This material may not be published, broadcast, rewritten or redistributed. We strive to uphold our values for every story published.