Looking for a job as a special education teacher? Call Bruce Passman; he needs to quickly fill eight positions.
"It's a great concern to us," says Passman, deputy superintendent of Lawrence public schools. "We've had quite a number of vacancies over the last several years in special education that are becoming increasingly more difficult to fill."
Passman ticked off several reasons:
¢ Fewer people are going into teaching - and even fewer are considering special education.
¢ The job is difficult.
"Not to suggest that any teaching job is easier than another, but special education is very challenging," he said.
Those teachers often must split their time among different schools, he said. And they don't have as many other faculty in similar positions to consult with, he said.
¢ Schools face competition with other districts where salaries might be higher.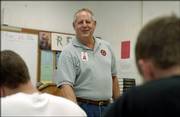 "When salaries are low, it just compounds the problem," Passman said. "They've been on the same (salary) schedule as all teachers. And it's a matter of longevity and training. ... It's been the same for special ed folks as it has been for all teachers."
Warm bodies
School administrators around the state are constantly calling Kansas University's special education department, looking for teachers, said Chris Walther-Thomas, who chairs the department.
"It's an incredible challenge," Walther-Thomas said. "I've been in two meetings today where the focus of the conversation has been, 'How do we meet these needs?' At this time of the year, I get telephone calls from districts across the state who are desperate - administrators who are desperate to find teachers," she said. "If they could have highly qualified, competent teachers, it would be their dream come true. Right now, they're looking for warm bodies."
According to a state Legislative Division of Post Audit report on school district performance, the worst teacher shortage through the state is in special education.
Chris Walther-Thomas, chair of KU's special education department, discusses teacher shortages in Kansas.
More than 17 percent of all special education positions statewide in the 2004-2005 school year were either vacant or filled by a teacher not fully qualified, according to the July report.
Low retention
Martha Gage, director of teacher education and licensure for the Kansas Department of Education, said there were about 3,700 special education teachers across the state.
Of those, about 500 were only provisionally qualified, and another 300 were on a waiver program.
Gage said two problems face special education.
One, the state isn't preparing enough teachers. And two, the retention rate for special education teachers is only about 40 percent, she said.
"You're not making any headway," she said. "You're just going to continue to have shortages."
One reason qualified teachers don't stay in special education is all the paperwork, she said.
"If they could just teach the kids, they would be fine," Gage said. "But it's all that extra paperwork, with IEPs (Individual Education Plans) and documentation that really causes them to be burdened more than the teachers in the general ed classroom."
'Not as much fun'
Deb Engstrom is entering her 32nd year as a special education teacher.
"Everyone has a passion for something. And I really, really love what I do," said Engstrom, who works at Lawrence High School.
Engstrom, who teaches students with severe disabilities, said there were several problems in attracting younger people to the field.
More on 6News
See more about the need for special education teachers on the 6News Nightcast at 10 p.m. tonight on Sunflower Broadband Channel 6.
"It's just not as much fun as it used to be," she said. "You're not going to get rich being a teacher. And in special ed, the paperwork is just incredible. So you don't really get to teach kids, but rather you're pushing paper."
Michelle Jensen, a Southwest Junior High School interrelated resources teacher, said this was her second year in special education.
Jensen teaches students with learning disabilities, including students with reading and math disabilities.
She works with about 15 to 20 students a day.
"It is very challenging, and you have a lot of diversity with all of the different disabilities and with working with teachers, parents and the students," Jensen said.
Despite the challenges, she finds it rewarding.
"I don't know if I'll last 30 years," she said. "But definitely in the next five to 10 years."
One in five
Of the 10,000 students in Lawrence Public Schools, about 2,100 receive special education services, Passman said.
About 5 percent are gifted students, and a little more than 15 percent receive services associated with their disabilities, he said.
Special education statutes cover students with disabilities from ages 3 to 21 and those who are gifted from kindergarten through 12th grade, he said.
Students who have special education needs are provided services at their home school, he said. However, there are some "cluster sites" where students with the same needs, such as those with autism or emotional disorders, are assigned to get services.
From 1975, when the original law for special education went into effect, until the early 1990s, Lawrence's pools of applicants "were pretty good," Passman said.
But since then, the applicant pools have dried up, he said.
"Where we might have had 20 applicants for a resource teaching position, we only have five bona fide applicants today," Passman said.
Stretching people thinner
"You do whatever you can," Passman said. "One strategy is you just take your fairly limited resources and you divide them up further."
For example, he's short of a couple of autism teachers.
"And we just stretch those folks out thinner. Instead of consulting in a couple of schools, maybe they have four schools," he said.
Two teachers for the gifted might split the workload of three teachers. Or school psychologists might have four schools instead of three, he said.
"Another strategy that we've used is hiring substitutes that are not qualified in special education, in at least the teaching areas," Passman said.
The district has the option of hiring substitutes when they've tried all kinds of recruitment strategies and interviewed the entire pool and still come up shorthanded, he said.
Another strategy: hiring teachers still in training.
"We have some teachers who have agreed to take a special education teaching position that are not licensed and agree to go on what's called a waiver," Passman said.
A waiver is a process approved by the Kansas Department of Education that allows the school district, once it has demonstrated the applicant pool has been thoroughly searched, to hire someone who isn't licensed.
That person agrees to go through a training program to begin the process of getting a special education background.
Using para-educators
Passman said the school district uses about 250 "para-educators" and 200 certified licensed special education teachers in its teaching staff.
"It's a fairly significant amount of our district employee force," he said.
Most para-educators are not licensed special education teachers, he said.
"We have the good fortune in Lawrence of actually being able to recruit and hire a number of para-educators who do have teaching licenses," Passman said. The district provides them with a minimum of 20 hours of training, he said.
So who is going into special education? Passman said it's a mix. Of teachers on waivers, most seem to be younger teachers with regular licenses interested in pursuing special education.
"We also get people at the other end of the spectrum who are in their 40s, even 50s, who have been in other careers and decide that they want to teach," Passman said.
Passman said when they couldn't fill special education positions, they often went to the teaching staff and encouraged some to enter the field.
"If you've got a teacher at a school who does a great job of working with high-ability kids, well, we'll want to talk with that teacher about having them consider going into gifted education," he said.
Copyright 2018 The Lawrence Journal-World. All rights reserved. This material may not be published, broadcast, rewritten or redistributed. We strive to uphold our values for every story published.