Chicago — A candle in an apartment without electricity was believed to have caused one of the city's deadliest and most heartbreaking fires in years, a blaze Sunday that killed six children ages 3 to 14, some of whom screamed "we're burning" as neighbors watched helplessly.
The mother of most of the victims and three siblings were injured.
The third-floor, three-bedroom apartment on the city's North Side also had no smoke detector, said visibly shaken Fire Commissioner Raymond Orozco.
"This is the largest multiple fire fatality we've had from a single fire in quite a few years. I mean, it's children. It's difficult for everyone involved," Orozco said.
Commonwealth Edison spokesman John Dewey said the apartment hadn't had electricity since May, but he wouldn't say why it was turned off, citing confidentiality reasons.
"It appears that candles were used in the apartment, and right now our preliminary cause is that the candles were the cause of origin," Orozco said.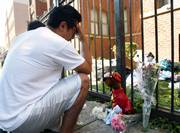 The fire broke out just after midnight.
"Then the mother came running out with one child in her arms, screaming to the neighbors that there were other children inside," said Cmdr. Will Knight. "They asked her how many and she said 'eight."'
Derrell Dixon said two children appeared at a window and he and several other neighbors held up a blanket, trying unsuccessfully to get the youngsters to jump to safety.
"The kids were screaming and screaming, 'Help! Help! We're burning, we're burning,'" said Dixon, 22, who said he saw firefighters rescue one of the children with a ladder.
The dead were identified by the Cook County medical examiner's office as Vanessa Ramirez, 14; Eric Ramirez, 12; Suzette Ramirez, 10; Idaly Ramirez, 6; Kevin Ramirez, 3; and Escarlet Ramos, 3.
Copyright 2018 The Associated Press. All rights reserved. This material may not be published, broadcast, rewritten or redistributed. We strive to uphold our values for every story published.