Baghdad, Iraq — The American death toll for October climbed past 100, a grim milestone as a White House envoy turned up unexpectedly Monday in Baghdad following a rough patch in U.S.-Iraqi ties. At least 81 people were killed across Iraq, including 33 in a bombing targeting workers.
A member of the 89th Military Police Brigade was killed Monday in east Baghdad, and a Marine died in fighting in insurgent-plagued Anbar province the day before, raising to 101 the number of U.S. service members killed in a bloody October, the fourth-deadliest month of the war. At least 2,814 of American forces have died since the war began in March 2003.
According to an Associated Press count, October also has recorded more Iraqi civilian deaths - 1,170 as of Monday - than any other month since the AP began keeping track in May 2005. The next-highest month was March, when 1,038 Iraqi civilians were killed in the aftermath of the Feb. 22 bombing of an important Shiite shrine in Samarra.
The war and the rising American casualties have produced a huge drag on Republican candidates as the U.S. midterm election approaches. The vote is seen in many cases as a referendum on the war, which has stretched into its 44th month. The Bush administration has invested heavy attention on Iraq in recent weeks, trying to put a new face on the conflict with mixed results.
Upon arriving for an unannounced visit, National Security Adviser Stephen Hadley went straight into meetings with Prime Minister Nouri al-Maliki and his security chief, Mouwafak al-Rubaie, telling them he "wanted to reinforce some of the things you have heard from our president."
Al-Rubaie said late Monday that Hadley was here to discuss the work of a five-man committee that al-Maliki and Bush agreed to Saturday. Hadley also presented some proposals concerning the training and equipping of Iraqi security forces as well as security plans.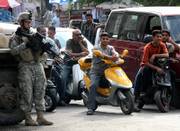 "It was a useful visit," he said, but refused to give any details, saying only that Hadley's meetings were limited to al-Rubaie and al-Maliki.
The White House said Hadley was not on a mission to repair ragged relations, accounts of which it said had been "overblown" by the media.
"Absolutely not," said Gordon Johndroe, spokesman for the National Security Council in Washington. "This is a long-planned trip to get a firsthand report of the situation on the ground from the political, economic and security fronts."
But the timing of the visit argued otherwise.
Last week al-Maliki issued a string of bitter complaints - at one point saying he wasn't "America's man in Iraq" - after U.S. Ambassador Zalmay Khalilzad unveiled adjustments in America's Iraq strategy.
The ambassador announced that the prime minister agreed to implement a set of timelines, prompting al-Maliki to accuse the White House of infringing on his government's sovereignty and say that he was not consulted.
By week's end, al-Maliki and President Bush had a hastily convened video conference call and agreed to speed the training of Iraqi forces and the return of control over all territory to the Iraqi army.
With American voter support for the war at a low point as the Nov. 7 congressional election approaches, a top aide to al-Maliki said the Iraqi leader was using the GOP's vulnerability on the issue to leverage concessions from the White House - particularly the speedy withdrawal of American forces from Iraqi cities to U.S. bases in the country.
Al-Maliki has said he thinks the continued presence of American forces in Iraq's population centers is partly behind the surge in violence.
Copyright 2018 The Associated Press. All rights reserved. This material may not be published, broadcast, rewritten or redistributed. We strive to uphold our values for every story published.