New York — After two years of secret taste tests, KFC said Monday it would stop frying chicken in artery-clogging trans fats, but New York City restaurants being urged to do the same say it's not so easy.
KFC's announcement, which won praise from consumer advocates, came an hour ahead of a public hearing on a proposal that would make New York the first U.S. city to ban the unhealthy artificial fats.
Industry leaders dished up a plateful of reasons why such a plan shouldn't be adopted in the nation's restaurant capital.
The move would be a "recipe for disaster that could be devastating to New York City's restaurant industry," said E. Charles Hunt, executive vice president of the New York State Restaurant Assn.
The shift by KFC and a handful of other fast food chains - and the effort by New York health officials - mark an aggressive crackdown on an ingredient that is consumed in large doses across the country.
An average American eats 4.7 pounds of trans fats a year, and the oil is used as a shortening in baked goods like cookies, crackers and doughnuts, as well as in deep frying. Experts say a ban in New York would reverberate across the country because the city's food industry is so large.
The ban initially would have been a harsh one for KFC. But the company now says that by next April, all 5,500 of its U.S. restaurants will have switched from trans fat-rich partially hydrogenated vegetable oil to a new soybean oil believed to be less likely to cause heart disease.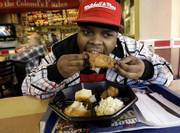 Some KFC sites already have made the switch in secret trials to see whether customers would notice a difference. They did not, and KFC President Gregg Dedrick said he was confident the switch wouldn't prompt complaints about taste.
Health advocates applauded the company's switch. The Center for Science in the Public Interest, which sued KFC last spring over the trans fat content of its food, announced Monday that it was withdrawing from the lawsuit.
Burger King also said Monday that it hopes to begin testing trans fat-free cooking in some restaurants within 90 days. Wendy's already has switched to a zero-trans fat oil. McDonald's had announced in 2003 that it intended to do so as well, but has yet to follow through.
The New York hearing on the proposed trans fat ban was packed with doctors and paid industry spokesmen. Long lines at the building's security checkpoint and an overflowing hearing room might have deterred ordinary citizens or restaurant owners from speaking.
But industry representatives like Hunt spoke out. "This ban threatens popular dishes and affordable menus," he said. "The city needs to get serious about working with, not against, our restaurant owners."
He and others said a ban would leave cooks unable to find proper replacement ingredients and force some to switch to bad alternatives.
Sheila Cohn Weiss, director of nutrition policy for the National Restaurant Assn., suggested that restaurant owners in need of a quick fix would simply switch to another unhealthy substance like palm oil, which contains unhealthy amounts of saturated fat.
"This is a switch that cannot happen immediately," she said.
Copyright 2018 The Associated Press. All rights reserved. This material may not be published, broadcast, rewritten or redistributed. We strive to uphold our values for every story published.