Nick Davis was reading a now-forgotten quotation printed on his paper coffee cup last year when he noticed the fine print.
It was an invitation to have his, or any Starbucks customer's, own pithy saying printed on the chain's coffee cups.
So Davis submitted this quote: "Voting is the method by which we purchase the right to be critical of government and politicians."
Out of thousands of submissions, his entry resonated with the nation's largest coffee-shop franchise.
Since May, Starbucks customers nationwide have been mulling the Lawrence resident's reflection as No. 98 in more than 180 quotes featured in the chain's "The Way I See It" campaign, described on the Starbucks Web site as a collection of thoughts and expressions by "notable figures."
Davis, a 61-year-old former marketing representative who moved to Lawrence two years ago after several decades in San Francisco, shrugs off the idea of being dubbed notable.
While other quotes in the series come with each author's book titles, song titles or other credentials, the curriculum vitae of Davis, a Stanford MBA graduate, offers a simple description: "Starbucks customer from Lawrence, Kansas."
Davis describes himself as "nobody famous," and credits his father for knowing how to shut up a guy who complained about politics but never voted.
"Maybe I'm hard-over on voting," he said, "but I really took that conversation to heart."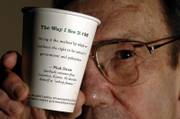 So just what does a guy get for his literary trouble?
While it's no Nobel, Starbucks sent him two dozen cups, a pound of coffee, a French press coffee maker and a personally signed letter from the CEO of Starbucks.
As for inspiration, Davis finds better grist in conversation than sitting atop a Nepalese mountain - a goal he'd been denied while in the Peace Corps, because of a bad back.
"I don't sit down to write them. They just come to me," said Davis who is developing a Web site that will highlight a dozen or so more of his quips.
As for his favorite wit, Davis points to Bill Vaughn, one-time writer for The Kansas City Star, and Will Rogers, the American wit who authored Davis' favorite saying that he never met a man he didn't like.
But Davis also gives a nod to someone who apparently took Rogers' challenge and made reference to a famous broadcaster in the 1970s, displaying it proudly at Arrowhead Stadium in Kansas City, Mo.
The sign: "Will Rogers never met Howard Cosell."
Copyright 2018 The Lawrence Journal-World. All rights reserved. This material may not be published, broadcast, rewritten or redistributed. We strive to uphold our values for every story published.