New York — Both times it aired earlier this month, the CNBC documentary "The Age of Wal-Mart" attracted larger audiences than any other business program on the network that week.
That's not particularly noteworthy until you consider that they were reruns. More than a rerun: The Peabody Award-winning film is 2 years old and CNBC has shown it 44 times.
Television executives notice those kind of numbers, and the trend explains how Josh Howard got his job 10 months ago, running a newly formed documentary unit at CNBC and preparing the network's first newsmagazine for its December debut.
"It just tells you that there's a real appetite for in-depth documentaries on people and trends (in business)," said Mark Hoffman, CNBC president.
The unit's next film, "Big Brother, Big Business," premieres Wednesday. It's about all the little-known ways that businesses can spy on and collect information about their employees and customers, and follows this month's well-received documentary on the inner workings of American Airlines.
It's a challenging time at CNBC, which is facing job cuts due to parent NBC Universal's recent directive to cut costs and a potential challenge from a new business network under consideration by the creators of Fox News Channel.
After failures with the likes of John McEnroe and Dennis Miller, CNBC under Hoffman has been trying to make prime-time programming that's more consistent with the business-oriented news that dominates its daytime schedule.
CNBC's average prime-time audience this year of 128,000 is a fraction of industry leader Fox News Channel's 1.4 million, according to Nielsen Media Research. But CNBC's numbers have inched up from last year. The two airings of the Wal-Mart documentary on Oct. 15 averaged 236,000 viewers, while the two premiere showings of "Inside American Airlines: A Week in the Life" averaged 345,500 people.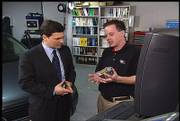 Cost-effective format
Documentaries are costly, particularly compared with studio shows with a couple of people talking, and that's why they've become endangered species at broadcast networks.
But a broadcaster won't show a documentary 44 times. If a lower-budget cable network can get this kind of a ride from a film and maintain ratings, it makes the expense worthwhile, executives said.
This week's "Big Brother, Big Business" details the wealth of public information about people that many don't know exists.
For example, Google has a record of every search made on its Web site, and who made it. Some new cars are equipped with black boxes that record how fast a driver went, and this information was used to convict one motorist of manslaughter in an accident caused by speeding, Howard said.
A rental car company installed GPS devices in its cars and, until stopped by a court, charged exorbitant fees to drivers who crossed a state line - a restriction that had been buried in the fine print of a contract offering unlimited mileage, he said.
"It was a perfect subject for us," Howard said. "It sheds light on a growing industry ... But it also appeals to just about everybody who has used a credit card, rented a car or applied for a job."
New newsmagazine
Howard is also in charge of CNBC's newsmagazine, which doesn't have a title yet but is scheduled to debut Dec. 6. It's modeled after HBO's "Real Sports" in having one fresh episode each month that is repeated multiple times.
The newsmagazine will have three stories a month, a mixture of profiles, investigative pieces and features. That's a comfortable format for Howard, who spent many years at CBS' "60 Minutes" and was executive producer of the now-defunct "60 Minutes II."
The job is an unexpected second chance for Howard, who was forced to resign from CBS when, under his watch, Dan Rather's 2004 story about President Bush's National Guard service collapsed because the authenticity of documents could not be verified.
Howard expected to leave television news after his job running "60 Minutes II" evaporated, and wasn't sure if there would be a stigma attached to him.
But the CNBC job intrigued Howard, an amateur investor with a longtime interest in business news.
Hoffman said he studied the issues surrounding the National Guard case and dismissed it as "irrelevant to what (Howard) could contribute at CNBC." There have been no outside complaints or questions about Howard getting the job, he said.
Howard said he's found it refreshing. He had moved high enough in CBS News to where he was spending most of his time managing people; CNBC's operation is so small that he's back to producing television programs.
"In a way, it's the most fun I had in a while," he said.
Copyright 2018 The Associated Press. All rights reserved. This material may not be published, broadcast, rewritten or redistributed. We strive to uphold our values for every story published.