Baghdad, Iraq — American troop deaths in Iraq hit their highest monthly total in a year Thursday, but as U.S. forces clamped down on the capital, militants struck in a city to the north, where 30 police and gunmen were killed in a series of shootouts.
The latest U.S. deaths - a Navy sailor and four Marines - all occurred Wednesday in volatile Anbar province, west of Baghdad and a hotbed of the Sunni resistance to U.S. forces and their Iraqi government allies.
At least 96 U.S. troops have died so far this month, equaling the level for the whole of October 2005 - a factor in rising anti-war sentiment in the United States that has prompted calls for President Bush to change strategy. There have been only three months when more U.S. forces died in Iraq: 107 in January 2005, at least 135 in April 2004 and 137 in November 2004.
However, U.S. officials have linked October's higher death toll to a historical spike in violence during the Muslim holy month of Ramadan, additional U.S. military vulnerability because of the security drive in Baghdad and the coming American midterm elections.
The U.S. military spokesman, Gen. William B. Caldwell, said the capital's spiraling murder rate had eased since the end of the Ramadan early this week - possibly because of the massive deployment of U.S. troops searching for a missing soldier.
Ramadan ended on Sunday for Sunnis and Monday for Shiites.
Since then, killings in parts of Baghdad where security forces have established a firm presence have fallen by 10 to 20 percent, Caldwell said at a weekly news briefing.
"We did in fact see a tremendous downturn in the number within our clear areas which we are trying to watch very closely," Caldwell said. "It could be a multitude of things that are bringing down the level of violence."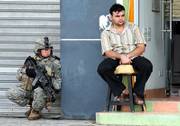 Fighting shifted Thursday from the capital to Baqouba, a chaotic city north of Baghdad, where 30 police and militants were killed and 42 people were wounded in gunbattles.
The fighting around Baqouba, 35 miles from the capital, marks the latest outbreak of bloodshed involving militants believed to be members of the Mahdi Army militia loyal to hard-line anti-American cleric Muqtada al-Sadr.
Ghassan al-Bawi, police chief of surrounding Diyala province, said those killed included 12 police officers and 18 gunmen.
The clashes followed fighting this week between the Mahdi Army and police aligned with a rival Shiite militia, the Badr Brigade, in the southern city of Amarah. At least 31 people were killed, including six police officers who were dragged out of their houses.
U.S. deaths
As of Thursday, at least 2,809 members of the U.S. military have died since the beginning of the Iraq war in March 2003, according to an Associated Press count.
Mahdi militiamen recently have moved aggressively into several mixed areas around Baghdad, killing some Sunnis and forcing many others to flee their homes in a form of sectarian cleansing.
Militia killings last week in Balad, near Baqouba, forced U.S. troops to return to the area after Iraqi security forces were unable to stem the bloodshed.
In Najaf, south of Baghdad, authorities temporarily closed Iraq's holiest Shiite shrine after receiving a tip that suicide bombers wearing explosives belts had infiltrated the city. The shrine was reopened several hours later.
In the northern city of Mosul, authorities extended an overnight curfew until 3 p.m. today after Sunni gunmen distributed leaflets proclaiming the mixed Sunni-Kurdish area a part of an Islamic state declared earlier this month by an insurgent umbrella group, the Mujahedeen Shura Council.
October has been especially deadly for Iraqi security forces and civilians, with about 1,000 Iraqis killed in war-related violence, including about 300 police and soldiers.
Copyright 2018 The Associated Press. All rights reserved. This material may not be published, broadcast, rewritten or redistributed. We strive to uphold our values for every story published.