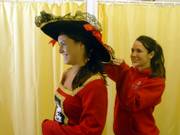 Anyone spotting a guy wielding a battle-ax, lacing up leather boots and running about in furry pelts of some kind this weekend, don't be shy about saying hello to Andrew Belgum, eager Capital One barbarian.
And he'll be running some plastic to make it all happen.
"As much as it takes," the Kansas University sophomore said Monday afternoon, preparing to dump up to $80 on clothing, accessories and makeup to take on his "ultimate" Halloween persona. "I've not had that good of a costume the past few years. They've been awful. Last year I got a lot of disappointing looks. When you have a disappointing costume, you get disappointing looks.
"I want to do a lot better this time."
The optimism of Belgum - who spent zero dollars last year to be a punk rocker - is fitting, given his fellow countrymen's penchant for spending this Halloween season.
Americans plan to spend $4.96 billion through Oct. 31 for Halloween fare, up more than 50 percent from $3.29 billion a year ago, according to a survey conducted for the National Retail Federation.
Costumes are leading the way, according to the survey. Nearly 60 percent of respondents said they were planning to dress up this year, up from 53.3 percent a year earlier.
The numbers certainly are playing themselves out at Fun and Games, the downtown costume shop that stocks 700 full costume kits, 200 masks and 200 wigs - in addition to the shelves, bins and racks stuffed with fake eyeballs, theatrical blood and seemingly countless other novelties and accessories.
Trips to the storeroom continue to mount.
"Our sales are up 100 percent from the same time a year ago, and last year was our biggest year ever," said Kyle Billings, owner of the shop occupying the top floor of the Lawrence Antique Mall, 830 Mass. "It's just unbelievable."
Usually $20 costumes are going fastest, but these days the $40, $50 or even $60 top-of-the-line costume kits are getting locked up by revelers shopping early.
"I'm selling a lot more expensive costumes," he said. "They're not balking at the prices. Price is not a factor as much as it usually is. Usually I'm having to help get them looking the best, but they have to do it as cheaply as possible. Now, it's whatever they want, to be the best they can be."
Sarah Fayman, who rents elaborate costumes below her fabrics shop at 925 Mass., reports brisk business for costumes. Pirates are especially hot, given the popularity of the latest "Pirates of the Caribbean" movie.
Top costumes
Here are the most popular costumes this year for adults and children, according to a survey conducted for the National Retail Federation: Adults 1. Witch, 17.5 percent 2. Pirate, 3.7 percent 3. Vampire, 3.7 percent 4. Cat, 2.6 percent 5. Clown, 1.8 percent Kids 1. Princess, 11.5 percent 2. Pirate, 5 percent 3. Witch, 4.8 percent 4. Spider-Man, 4.4 percent 5. Superman, 3.7 percent
The costumes offer the best chance for many wannabes to assume the swashbuckling identity of a Hollywood heartthrob, if just for a night.
"There are a lot of Johnny Depps," she said, with a hint of a sigh. "I guarantee they're not going to look just like him, unfortunately."
Sara Roth, an assistant manager at Party America, 1441 W. 23rd St., said that sales at the shop already were running about 20 percent ahead of last year's numbers. Returns are up throughout the store, from costume packages to whole-room decorations to sets of plastic martini glasses in orange and black.
"It's crazy," she said, "but it's a good crazy."
Like Belgum, KU sophomore David Field plans to take on the role of a Capital One barbarian, too - and not just when it comes to the costume.
Partygoers, beware.
"We might sort of run around and take peoples' wallets," Field said, perusing the plastic weapons aisle at Fun and Games. "We might even give 'em back. We'll see."
Copyright 2018 The Lawrence Journal-World. All rights reserved. This material may not be published, broadcast, rewritten or redistributed. We strive to uphold our values for every story published.