Ryan Murphy played Dr. Jekyll Friday night. Fortunately for Free State High, however, the senior quarterback was mostly seen in a Mr. Hyde role.
Murphy ran for three touchdowns and threw an 88-yard bomb to Craig Rosenstengle as the Firebirds thumped Lawrence High, 49-15, at Haskell Stadium.
Also on the Hyde side, Murphy recovered Lawrence High's only fumble. But he lost two fumbles and threw an interception, too.
"That just shows that a good team can overcome turnovers," Murphy said, "and that's what we did."
Good is what the Firebirds (8-0) are.
Friday's victory was Free State's most decisive in the 10-year series with the Lions. The Firebirds' eight victories are also the most in school history. At the same time, Free State also clinched at least a share of its first Sunflower League football title.
"Each week gets bigger and bigger," said Bob Lisher, the only football coach the school has had. "Next week is a big game, and the next week will be even bigger."
Actually, next week's regular-season finale at woeful Washburn Rural can't possibly eclipse the impact and intensity of Friday's city showdown.
Photo Gallery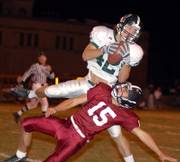 Free State vs LHS football
For instance, Ryan Murphy and twin brother Brian awakened Friday morning to find their house had been visited in the night by Lawrence High pranksters.
On the garage door of their home, they found a large banner proclaiming that Firebirds possess a certain diminutive anatomical device. They also discovered that someone had scrolled "I LOVE LHS" on the window of their older brother's car.
"I thought, 'I'll give them something special to love tonight,'" Ryan Murphy said with a smile.
Three touchdowns and a TD pass are all in a night's work for the Sunflower League's total offense leader, but Ryan Murphy was particularly special in completing 12 of 16 passes for a season-high 226 yards.
His three turnovers were unusual, but not as rare as what happened midway through the first quarter.
Momentarily, Murphy could be seen visibly taunting Riley, a former teammate from their days at Southwest Junior High, and an official quickly flagged Murphy for a 15-yard unsportsmanlike conduct penalty - an incident that contributed to the Lions' first touchdown.
"I kind of let my emotions get the best of me," Murphy said later.
Free State led, 6-0, and the Lions were driving on their first possession when Murphy came up from his safety post and bumped Lions' quarterback Chance Riley at the end of a Tony Williams run.
Brian Murphy said he couldn't remember his brother ever been hit with an unsportsmanlike conduct call. Lisher couldn't, either, and he certainly went out of his way to make sure his quarterback doesn't get another one.
Moments after the flag was thrown, Lisher took Murphy to the woodshed, giving him a visible dressing down in front of the Free State fans sitting in the south stands.
"It's an emotional game and kids are kids," Lisher said afterward, "so we had a chat : an emotional chat."
Murphy's night - both good and bad - overshadowed a defense that limited the Lions to 211 yards of total offense and, more important, stopped Lawrence twice on fourth-and-one situations in their territory.
Even a bad snap that resulted in an early second-quarter safety didn't deter the Firebirds from posting their fourth highest point total of the season.
"We handled adversity," Brian Murphy said. "That's the sign of a good team."
Lawrence High (4-4) can still qualify for the Class 6A playoffs if it can knock off a tepid Topeka High team next Friday at Haskell Stadium.
Copyright 2018 The Lawrence Journal-World. All rights reserved. This material may not be published, broadcast, rewritten or redistributed. We strive to uphold our values for every story published.