Free State High quarterback Ryan Murphy never received his final chance.
He knew the pass was important. But he never knew after overthrowing receiver Ben Bell on fourth-and-one with 48 seconds remaining that it would be his last shot in the Firebirds' 33-28 loss to Lawrence High on Friday night at Memorial Stadium.
"On that (pass), I thought it was third down," Murphy said. "I'm trying to set up the offense. Then, I see personnel going off the field, and I'm just thinking, 'What's going on?'"
No one could blame Murphy for getting caught up in the game's emotions - the Firebirds trailed, 33-13, with only five minutes to go before starting a frantic rally.
After scoring twice, thanks partly to a recovered onside kick, Free State had the momentum and the ball with 1:35 remaining. The Firebirds were 52 yards from one of the greatest comebacks in school history.
In addition, Murphy stepped onto the field with confidence after throwing for 217 previous yards - including 149 to Nick Ayre.
Photo Gallery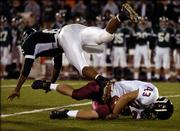 Lawrence High vs. Free State High 10-21-05
"Ryan was just putting the ball where it was supposed to be," Ayre said.
Which made the end that much more frustrating for the Firebirds.
On second-and-10 from the 32, Murphy completed a pass to Ben Bell for nine yards, but the senior failed to get out of bounds.
With the clock ticking with just under a minute to go, Murphy looked to the sidelines for guidance. Coach Bob Lisher elected to stop the clock with 52 seconds remaining.
"We wanted to make sure we had the right call, so we spiked the football, and it gave us a little more time," Lisher said. "We did have the right call, it just didn't work out."
Bell broke open on an out route, but Murphy's throw sailed just over his outstretched hands.
"I thought I threw pretty good," Murphy said, "but when it counted, I threw an incompletion."
Still, the junior thought he'd still get one final chance.
"I was shocked," he said. "I was trying to figure out what was going on. I had no idea."
The final drive still didn't sour Lisher's evaluation of his team's effort.
"I thought our kids grew up a heck of a lot tonight," Lisher said. "They kept playing hard. They kept fighting. I couldn't be more proud of them."
He had many areas to be pleased about. Free State scored 28 points against the best defense in the Sunflower League and never gave up in the fourth quarter when the game seemed all but lost.
"It could have been easy for us to just quit and fold, but we didn't," Murphy said. "We kept fighting hard."
Lisher also saw one of his messages get through, watching his team play with heart late in the game.
"We learned how to come back when we were down, and we haven't done that very well this year," Lisher said. "We made plays there at the end when we had to make plays, and that's the sign of a team that's growing up."
2005-06 Journal-World Cup
2005-06 Journal-World Cup
Standings
LHS: 10
Free State: 17
LHS varsity wins: 10
Free State varsity wins: 17
Note: The girls track and field teams recorded a tie during the Sunflower League meet.
Copyright 2018 The Lawrence Journal-World. All rights reserved. This material may not be published, broadcast, rewritten or redistributed. We strive to uphold our values for every story published.