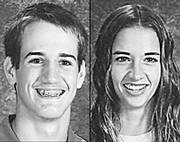 Scholarships go to Shuck, Vander Tuig The Maple Leaf Festival Committee awarded the Dr. Ivan Boyd Scholarship to Kirsten Shuck and the Margaret Boyd Scholarship to Amanda Vander Tuig. Both are seniors at Baldwin High School.
Shuck is active in football, wrestling, track, student council, Kansas City Extreme Makeover Home Edition, Baldwin Lake Cleanup, Boy Scouts and Baldwin First United Methodist Church. His possible field of study is in engineering or teaching. He is the son of Mark and Jan Shuck.
Vander Tuig is active in track, basketball, cross country, Fellowship of Christian Athletes, National Honor Society, Z-League, LINK and Worden United Methodist Church. Her possible field of study is in the medical field.
She is the daughter of Paul and Sheila Vander Tuig.
Copyright 2018 The Lawrence Journal-World. All rights reserved. This material may not be published, broadcast, rewritten or redistributed. We strive to uphold our values for every story published.