Picture this: David Corliss is guest speaker at a Lawrence Chamber of Commerce event last week. When the noon start time arrives, no one has stepped up to introduce Lawrence's newly named city manager.
No problem. Corliss steps to the front of the room on his own.
"Thank you for the warm introduction," he deadpans. "I'm Dave Corliss, and there has been a clerical error. I'm the new city manager."
There he is, Lawrence: Dave Corliss.
Two weeks ago, city commissioners made Corliss the sixth city manager in Lawrence history. A 16-year veteran of City Hall, Corliss started as a management analyst in 1990, then became director of legal services in 1996 and an assistant city manager in 2000.
Now he's in the big chair and is putting on a big show for anybody who wants to hear about a new direction for the city.
"If there ends up being a simple motto for my administration, it will be: 'No rest,'" Corliss said. "We cannot rest on having a nice downtown and nice neighborhoods. I know better than anyone the dangers of complacency. I know there will be a temptation to rest on our laurels. But I think it will be dangerous to not try and improve things.
"It is dangerous to not recognize that there are threats to our economic well-being. Other communities are certainly trying to grow and attract employers. We have to step it up several notches."
Photo Gallery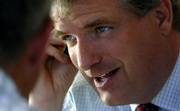 City manager David Corliss
Corliss still is in the honeymoon period in his new job, but thus far his performance is drawing good reviews from some who previously expressed concern about the community's direction. They talk about a feeling of openness, a willingness to hear feedback and even his attempts at humor.
"I really get the sense that there is a new enthusiasm at City Hall," said Greg DiVilbiss, a Lawrence developer and former City Commission candidate who campaigned on the need for more Lawrence jobs. "That's great, because I think it will spread throughout the community."
Painting fire hydrants
Corliss, 45, is a Wichita native. His father was an attorney, a World War II veteran shot down in the South Pacific. Corliss said one of the highlights of his life was taking his father to the World War II Memorial last year. His mother was a history teacher who cared for Corliss and his sister.
Corliss said he took a little something from both parents. He loves the law and history. Somewhere along the way, he also began to love to tell stories to make a point.
Here's one he says is told a lot in city manager circles: When a new city manager comes to town, the first thing he or she should do is paint all the fire hydrants in town a different color so everyone knows a change has occurred.
"That seems silly to me," Corliss said. "I'm not going to look for a cosmetic change. I'm looking for something deeper than that. The commission is looking for something deeper than that."
Corliss already has talked a lot about doing a top-to-bottom review of every department in the city. He said that means reviewing each department for effectiveness, efficiency, innovation and leadership. The review will take several months, he said.
Some changes are easy enough to predict. He said he'll likely recommend the Planning Department and the Neighborhood Resources Department, which handle building permits and several other inspection duties, be combined to create a one-stop shop for people looking to do development.
Another certainty will be a new "performance-based" management system requiring department heads to track much more information so Corliss and commissioners have more data upon which to base their decisions.
Corliss and commissioners will receive regular reports detailing everything from how timely the trash is picked up to how long it takes a public works crew to respond to a pothole complaint. And there will be regular community surveys to help gauge residents' concerns.
Corliss said the system will allow decisions based on data rather than anecdotes or "whatever the last complaint was."
People who have worked with Corliss predict his top-to-bottom review will be thorough.
"I always viewed Dave as sort of an anchor over in City Hall," said former City Commissioner Allen Levine, who served with Corliss in the mid-1990s. "He was a very stable, open, accessible guy. If you came to him with a question, he would really think about it and come back to you with a thoughtful answer."
But the big question is whether he'll be able to turn his ideas for change into reality.
"It seems like it is sometimes easier to make big changes by bringing somebody in from the outside rather than the inside," Levine said. "So from that standpoint, I thought it was an interesting choice. But I thought it was a very good choice from a stability standpoint.
"If he can make the changes and provide stability, they'll have gotten the best of both worlds."
Junior partner
Corliss is quick to point out he doesn't plan to make any changes without the blessing of the five-member City Commission. In other words, he'll take his direction from them, not the other way around.
"I can help them see around some corners, but I don't think the city manager who is out front politically is going to be very successful in this town," Corliss said. "I don't think my role is to be so out in front that the City Commission wonders where I'm at.
"They key to this job is you have to recognize that you have a number of partners, and you have to recognize that you are the junior partner in the commission-manager relationship."
For some, that's not exactly the role they want their city manager to play. Some community members have openly longed for a return to a city manager like Buford Watson Jr., the longtime leader who preceded former City Manager Mike Wildgen. Watson was noted for always having a big idea in his pocket that he wasn't afraid to tout.
"I haven't heard David say, 'Here are my three primary goals or ideas to make this community better,'" said David Reynolds, a Lawrence home builder who has expressed concern the city hasn't done enough to promote growth and new jobs. "I have all kinds of hopes for him and really want him to be successful, but he has to prove that he's going to be a leader.
"Otherwise, we're at the same-old, same-old if we just have a follower."
Other assessments of Corliss have been more positive. He's been praised by both the business community and the city's neighborhood groups.
During his six-month stint as interim city manager, Corliss was hailed for being "aggressive and proactive" by Lavern Squier, president and CEO of the Chamber of Commerce, while Lawrence Association of Neighborhood President Gwen Klingenberg said Corliss had been "really good" about keeping neighborhoods informed of city issues.
Nightly advice
But as Corliss points out to people who recently have praised him for some of his comments, talk is cheap. The real tests will come soon enough, and in the job of city manager there is an easy-to-understand pass-fail standard.
It is three votes on the City Commission. That's all it takes any given day for a city manager to be sent packing. Corliss, though, said he won't let that environment color everything he does.
Online chat
Wed., October 18: Chat about City Hall with City Manager David Corliss on ljworld.com
His goal each day won't be to make sure he keeps three city commissioners happy by telling them only what they want to hear.
"They don't want somebody who will simply say yes to all of their requests," Corliss said. "There will be recommendations I make that they may not want to hear."
If there's one thing Corliss likes more than a quip, it is a quotation. He quotes poets, philosophers, politicians.
One of his favorites is from Samuel Johnson, an English philosopher and writer of the 1700s: "How small of all that human hearts endure, that part which laws or kings can cause or cure."
"The point," Corliss said, "is that government has tremendous power and responsibility, but I have to remind myself that we can't respond to every human heartache."
His family, Corliss said, helps remind him of that. He and his wife, Sarah, have been married since 1985, when they met at Kansas University. She's a part-time graphic artist and mother of their three daughters: Emily, 16, Katherine, 13, and Laura, 9.
"I always remind myself that I give advice all day long, but the most important thing I say on any day is what I tell my girls at night," Corliss said. "The day I forget that is the day I'm really in trouble."
David Corliss on the issues
¢ Economic development: The community has become "a bit complacent" in economic development efforts. As part of the 2007 budget Corliss crafted, he included a new economic development coordinator position for City Hall, created a $250,000 incentive fund for companies looking to locate or expand here and increased funding for the economic development marketing program run by the Lawrence Chamber of Commerce. ¢ Planning: Corliss thinks the city needs to better plan for growth. The city must decide where roads, parks, schools and other major public investments will be made well ahead of developers beginning work. Areas west of the South Lawrence Trafficway and south of the Wakarusa River are expected to be the first areas that will be planned using the new approach. ¢ Infrastructure maintenance: Maintaining streets, sewer and water lines, and city buildings will be a priority. Corliss recommended adding $2 million in street maintenance funds to the 2007 budget. Commissioners ultimately added $1.3 million. ¢ Keeping Lawrence's identity: Corliss has said one of Lawrence's greatest attributes is that it hasn't been swallowed up by the ever-closer Kansas City metropolitan area. To prevent that, he thinks the community will need to "enhance" its unique aspects: downtown, older neighborhoods, the two universities, and parks and open space. He also said the community needs to make sure that people who want to shop in Lawrence can do so and that people who want to work in Lawrence have opportunities.
Copyright 2018 The Lawrence Journal-World. All rights reserved. This material may not be published, broadcast, rewritten or redistributed. We strive to uphold our values for every story published.