Arlington, Va. — President Bush on Saturday helped the Air Force make a dream come true with the dedication of a hilltop monument anchored by soaring silver stalks that evoke the famed Thunderbirds' "bomb-burst" maneuver.
"A soldier can walk the battlefields where he once fought. A Marine can walk the beaches he once stormed. But an airman can never visit the patch of sky he raced across on a mission to defend freedom," the president said at the ceremony.
"And so it's fitting that, from this day forward, the men and women of the Air Force will have this memorial, a place here on the ground that recognizes their achievements and sacrifices in the skies above."
The $30 million United States Air Force Memorial, set on a promontory next to Arlington National Cemetery and overlooking the nation's capital, was nearly 15 years in the making.
The Air Force was the only military branch without a monument around the capital. Efforts to change that were stymied by lawsuits and congressional action before the current site and design were chosen.
A precision flying demonstration by the Air Force Thunderbirds was taking place not far from Fort Myer, where Orville Wright flew the world's first military airplane in 1909.
As the Air Force's history was recounted, a succession of air craft - from a replica of Wright's historic biplane to an F-117A Nighthawk Stealth fighter - flew overhead.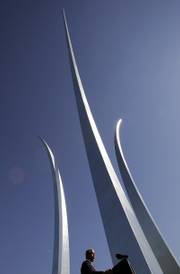 The memorial's 17,000-ton metal spires soar as high as 270 feet, in graceful arcs that imitate vapors from jets shooting upward from the earth and peeling away from each other.
"This memorial soars. It soars in space and in the imagination," Air Force Secretary Michael Wynne said. "These three spires echo our values: integrity, service and excellence. ... This memorial is a brilliant symbol of freedom and the spirit of flight."
The site features two inscribed granite walls and an 8-foot bronze "honor guard" statue of four figures. A glass wall engraved with the "missing man" formation - a signature maneuver to honor those missing and fallen in the military - provides the only images of aircraft.
"This memorial says to everybody who visits, today and tomorrow, 'This is the spirit that helped build the Air Force. This is the sacrifice that helped defend our freedom. This is the courage that helped build our nation.' On behalf of a very grateful country, and a grateful people, it says, 'Thank you,"' said H. Ross Perot, Jr., chairman of the memorial's board of trustees and a former fighter pilot in the Air Force Reserve.
Copyright 2017 The Associated Press. All rights reserved. This material may not be published, broadcast, rewritten or redistributed. We strive to uphold our values for every story published.