Washington — Gallaudet University students blocked access to campus for a second day Thursday, escalating their protest against an incoming president they say lacks the skills to lead the nation's only liberal arts university for the deaf and hearing impaired.
"We're in the middle of a crisis here," said LaToya Plummer, 25, a junior from Suitland, Md., who was among the protesters.
The blockade started around 3 a.m. Wednesday and forced the university to cancel classes for a second day Thursday as about 200 students protested at the front gate. Some linked arms and formed a human chain to block the main entrance to campus while about 10 police officers looked on from across the street.
"I'm not intimidated at all," said Matt Malzkohn, 26, a graduate student from Los Angeles. "We've had enough."
Some faculty members urged students to move their demonstrations to a lawn in the center of campus, fearing they otherwise risked being arrested.
The protesters refused. They have said they wouldn't let school resume unless the presidential search process is reopened.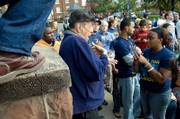 It was unclear whether university officials would try to move them.
"Of course, we never want to use force," university spokeswoman Mercy Coogan said. "We hope to do this peacefully."
The protests began last spring when then-Provost Jane K. Fernandes was appointed president, to start in January, by the school's board of trustees.
Students intensified their protests Oct. 5, when they took over Gallaudet's main classroom building - an occupation that was marred by complaints about rough actions by campus police. Since then, hundreds of students have been camped out inside and around Hall Memorial Building, forcing school officials to move or cancel classes.
The university's outgoing president, I. King Jordan, told students Thursday that D.C. Assistant Police Chief Gerald Wilson wanted to meet with leaders of the protest in hopes of resolving the standoff.
"I want to make sure no one is hurt," Jordan said.
Copyright 2018 The Associated Press. All rights reserved. This material may not be published, broadcast, rewritten or redistributed. We strive to uphold our values for every story published.