Vice President Dick Cheney on Thursday raked in more than $200,000 for U.S. Rep. Jim Ryun, blasted Democrats on terrorism and taxes and then headed off to the next stop to try to maintain GOP control of Congress.
"The stakes in this campaign are high, not just for the political parties, but for the country," Cheney said.
Ryun said Cheney is helping define the differences between Republicans and Democrats.
"I think he reflects well what is going on in this country, what Republicans stand for: lower taxes, fighting the war on terrorism," Ryun said.
Ryun, a five-term Republican from Lawrence, faces Democrat Nancy Boyda, of Topeka, in the Nov. 7 election. The 2nd Congressional District includes west Lawrence, Topeka, Manhattan and most of southeast Kansas.
Democrats said Cheney was sent here to try to "rescue" Ryun in his campaign against Boyda. Ryun defeated Boyda in 2004 by a 56 percent to 41 percent margin, but in the rematch Boyda has said her campaign polls show the race even.
"It's not surprising that a candidate like Jim Ryun, who has made a career out of cutting the services that help his constituents, is depending on his Washington cronies to give his campaign a boost," said Kansas Democratic Party Executive Director Mike Gaughan.
Fundraising for Ryun
Cheney raised $209,000 in campaign contributions for Ryun, according to Ryun's campaign manager, Jeff Black.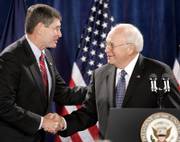 Contributors paid $1,000 each to have their photo taken with Cheney. It cost $100 per person to attend a reception and listen to Cheney speak.
After the event, Cheney was off to New Orleans to look at levees and meet privately with Republican officials.
Across the street from the Capitol Plaza Hotel Maner Conference Center in Topeka, a handful of demonstrators carried signs criticizing the Bush administration.
Bill Lucero, of Topeka, offered passers-by a chance to have their photo taken for free instead of for the $1,000 charged with Cheney. He said several people stopped by.
Shirley Hayden, of Burlingame, held a sign that read "Got Quagmire?"
She said she opposed the war in Iraq.
"I don't think we are fighting for American freedom there," Hayden said.
Cheney blasts Democrats
Inside the convention center, however, Cheney praised Bush and said, "He deserves a Congress that works with him, not against him."
With the election approaching, Republicans fear their majorities in the House and Senate could be jeopardized because of voter unease about the war in Iraq and the recent scandal involving Mark Foley, the Republican Florida congressman who resigned after it was revealed he had written salacious e-mails to underage House pages.
But Cheney defended Bush's foreign policy.
"America is safer today because we've conducted this war on the offensive, and because we have used every legitimate tool at our command to protect the American people," Cheney said.
He criticized the Democrats who opposed renewal of the Patriot Act, passage of the Foreign Intelligence Surveillance Act and the new law dealing with military detainees.
"The key question for the voters on Nov. 7 is whether or not this nation is serious about fighting the global war on terror.
"And there can be no doubt that George W. Bush is serious about fighting it and winning it," he said.
He also said if Democrats win a majority in the House and Senate, they will not renew tax breaks that are set to expire.
"If Democrats take control, American families could face an immense tax increase, and the economy would sustain a major hit," he said.
Praise for Ryun
During his 20-minute speech, Cheney said Ryun was a highly respected congressman.
"I don't think there is any part of America that is better represented in Congress than the 2nd District of Kansas," Cheney said.
"Like Dwight Eisenhower, Bob Dole and other great Kansans over the years, Jim Ryun remembers where he is from, and he stays close to his roots," he said.
Several members of the Kansas University College Republicans volunteered for the event and attended Cheney's speech.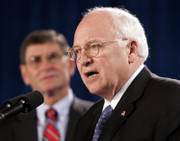 Renee Klinges, a senior from St. Marys, and head of the group, acknowledged Republicans "were in a bit more trouble than we would like to be this close to the election."
She attributed that to the Foley scandal, but said she hoped voters "will look at the issues versus maybe their perception of the party as a whole."
Ryun said Cheney's visit would boost his re-election efforts and provide a contrast between him and Boyda.
"I represent and reflect the values of the 2nd District," he said.
Last week, Boyda said Kansans viewed Cheney "as a big part of the problem right now."
On the war in Iraq, Ryun said he supported Bush's policies. "Progress is slow but it is being made. I'm optimistic that we will eventually see that war won," he said.
Boyda said a change in policy was needed and that she was hopeful a bipartisan panel, led by former Secretary of State James A. Baker III, a Republican, could provide viable options.
Copyright 2018 The Lawrence Journal-World. All rights reserved. This material may not be published, broadcast, rewritten or redistributed. We strive to uphold our values for every story published.