Johannesburg, South Africa — Reports that Madonna may have adopted a Malawian child have focused attention on foreign adoptions in Africa - and raised questions about whether it's in an African child's best interest to be spirited away to the wealthy West.
"Are celebrities doing it for the right reasons and not to make a statement?" asked Pam Wilson of the Johannesburg Child Welfare Society. Comments on talk radio across the region have been even more pointed, with callers accusing the pop-music star of going on a "shopping expedition."
At this time, current legislation in Malawi does not even allow for inter-country adoptions. This would make it illegal for Madonna to take home a child from Malawi, although there are rumors that restrictions were to be waived for her.
The adoption of children from poorer nations - Cambodia, Ethiopia, Romania - by rich foreigners has been happening for decades. Angelina Jolie adopted her son, Maddox, from Cambodia and her daughter Zahara from Ethiopia. Mia Farrow, now the mother of 14, began adopting children from poor countries in 1973 with an orphan from the Vietnam War.
Wilson said there would always be a "demand" for children from developing countries.
"There is a shortage of healthy babies in the First World, particularly now when there is no longer such a stigma to being a single parent and there are few babies in the system," she said.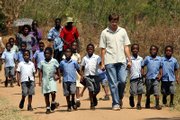 Adoptions of orphans from abroad have been increasing steadily in the United States - to more than 22,000 in 2004. Russia, China and Guatemala have been the main sources of these children; only a few hundred per year have come from Africa.
By 2010, the U.N. estimates, 18 million African children will have lost a parent to AIDS. Already there are more than 43 million orphans on the world's poorest continent.
In Africa, orphans usually are absorbed into extended families, but AIDS has affected many of the people who might have traditionally provided support. So, many of those millions who have lost parents to AIDS or other causes are cared for by orphanages - or find themselves living on the streets.
There is increasing desire among communities to keep vulnerable or orphaned children within them, which is what Eye of the Child, a child rights group in Malawi, has called on Madonna to do. In an open letter to "Madam Madonna" the organization urges her to help fund existing programs in Malawi to help vulnerable children. The group also applauded efforts by her charity, Raising Malawi, which aims to set up an orphan care center.
Some advocacy groups in the United States say Americans seeking to adopt should turn first to children in the U.S. foster care system, but Adam Pertman - executive director of the Evan B. Donaldson Adoption Institute - says both domestic and overseas adoptions are growing, and should be encouraged.
As for celebrities adopting poor children from Africa, Pertman said there was no reason to be critical or cynical.
"They're doing what more Americas all over the country are doing - adopting children," he said. "More Americans are adopting from abroad, more are adopting from Africa... They (the celebrities) just happen to be getting the attention."
Copyright 2018 The Associated Press. All rights reserved. This material may not be published, broadcast, rewritten or redistributed. We strive to uphold our values for every story published.