Baghdad, Iraq — The brother of Iraq's Sunni Arab vice president was assassinated Monday by gunmen who broke into his home, the third of the politician's four siblings to be slain this year. Sunnis blamed Shiite militias and demanded a crackdown to stop the capital's raging sectarian violence.
Iraqi authorities, meanwhile, arrested the head of the mess hall at a base where up to 400 mainly Shiite policemen suffered food poisoning during a Ramadan meal amid concerns it may have been the first known attempt by insurgents to carry out a mass poisoning against police.
A military spokesman, Brig. Qassim al-Moussawi, said the poisoning likely was intentional, though he did not rule out that spoiled food was used in the meal as part of a scheme by contractors or officers to skim money from food funds.
The policemen fell ill after eating their iftar, the meal that ends the sunrise-to-sunset fast during the Islamic holy month, at their base in the southern town of Numaniyah.
Baghdad was torn by new violence. A car bomb ripped through a market in a Shiite district, killing at least 10 people and wounding 23 - an attack likely carried out by Sunni insurgents. Gunmen also kidnapped 11 policemen in a brazen assault on their checkpoint in Sadr City, a Baghdad neighborhood dominated by the Mahdi Army, the country's most powerful Shiite militia.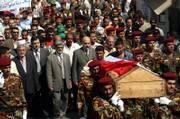 Elsewhere in Iraq, the U.S. military announced that three Marines died Sunday after fighting in the western region of Anbar, a hotbed of Sunni insurgents, bringing to 32 the number of American service members who have died in Iraq this month.
The death of the brother of Vice President Tariq al-Hashimi - the country's most prominent Sunni Arab politician - alarmed Sunnis and fueled their demands that the government crack down on Shiite militias.
Critics of Prime Minister Nouri al-Maliki accuse the Shiite leader of hesitating on reining in the militias because many of them - like the Mahdi Army - belong to parties in his government.
"The clock is starting to strike after today's events," Khalaf al-Alayan, a Sunni parliament member told The Associated Press. "They (Shiite militias) consider Sunnis terrorists who must be killed. If the zero hour is coming, we will take the decisions needed to defend ourselves."
Al-Maliki condemned Monday's killing as an "ugly, terrorist crime."
The vice president already has lost two other siblings in violence: His sister and another brother were killed within two weeks of each other in April, both in shootings in the Iraqi capital.
Copyright 2018 The Associated Press. All rights reserved. This material may not be published, broadcast, rewritten or redistributed. We strive to uphold our values for every story published.